Owais Mughal
Pakistan post office introduced 5 digit postal codes in 1988.
At that time, I used to feel very proud as among all my friends I seemed to remember the most number of postal codes in Pakistan i.e. at most 10 and those too were mostly confined to Karachi Division. My self-declared reign of postal codes memorization continued from 1988-2001 when I met my match. It was actually a mismatch. This mismatch was as obvious as the difference between night and day. Let us now take you to our main story.
In Boulder, Colorado there is a very famous walking district called the Pearl Street. To walk through five blocks of Pearl Street is an experience of its own kind. Street performers from all over the country come here; they gather people around and show their talents or tricks. They proudly call themselves to be part of an institution called the Street Theatre.
I've seen amazing feats performed by these seemingly unknown performers. I've seen them riding bikes on a rope, throwing a card from the peck, without folding it, to the roof of a building etc.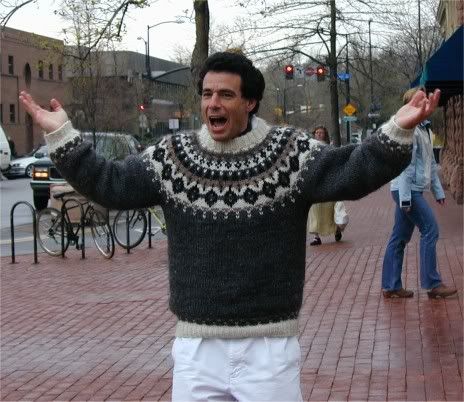 However what I saw once has compelled me to write this mail. I was in a crowd seeing the street performance of the Zip Code Man. This guy knows almost all the postal (ZIP=zone improvement) codes of the world and also knows some famous attractions in each and every postal code area. Look at the photo to the left. It shows Zip Code Man whose real name is David, performing live at Pearl Street. He is also the holder of Guinness Book of world Record for remembering most consecutive postal codes identified at random.
If you tell him your postal code, he will tell you the city you are from; will talk a few words with you in your native language and will also tell you the local attractions of your area.
He told a lady that she was from Kieve, Ukraine; another person that he was from Rutgers, Holland and yet another from Denmark, Japan etc.
I was however, still not impressed. Therefore to test him, I raised my hand and told him that I come from postal code 75950.
As soon as I said it, his reply came as:
" My friend this postal code is in Pakistan. A city called Karachi and a place called Federal-B-Area".
Then he asked me in Urdu:
"aap kaisay haiN?" (How are you?)
The people around me and myself were just dumbfounded. Many people do not even know that postal codes exist in Pakistan, let alone to use them or to memorize them. Therefore it was very impressive for me to meet someone in US who actually remembers almost all postal codes of the world. Photo to the right is the satellite image of postal code 75950, which covers the locality of Federal-B-Area in Karachi. Click on the image to get a larger view.
Later the Zip Code Man asked postal codes of 20 or so people. And then by pointing to each one of them he recalled correctly their postal codes, the cities they belonged to and some of the attractions in their area e.g. famous restaurants etc
At the end of the show, he asked for voluntary donations for his show by saying:
"Pay me or I know where everyone lives"
A roar of laughter went in the air from the crowd and most of the people paid him some amount.
The Zip Code Man's web page is here.
Pakistan Postal Codes
Pakistan introduced 5-digit postal codes in 1988. First digit represents the geographic location of the area as follows:
1xxxx: Northern Areas and Azad Kashmir
2xxxx: NWFP
3xxxx: South Western Punjab
4xxxx: Western Punjab
5xxxx: Eastern Punjab including Lahore
6xxxx: Northern Sindh
7xxxx: Southern Sindh including Karachi
8xxxx: Baluchistan
9xxxx: Turbat Division in Baluchistan
I am sure the least significant 4 digits also represent geographic entities. I don't know how are they alloted. Any help from our readers will be appreciated.
The list of post codes in Pakistan is here and a website to find postal codes around the world is here. Lets see if it inspires any of our readers to remember them by heart :) Also note that postal code for Federal-B-Area, karachi is indeed 75950.