Adil Najam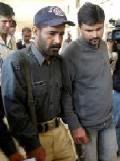 Back in July, ATP had posted a picture of former world squash champion Jansher Khan being hauled away in a police van on charges of trespass and violent attack on a woman. Now, Moin Khan, former cricket captain and wicketkeeper, has joined Jansher in the Hall of Disgrace for beating his wife.
Shame on you, both of you. You may once have been stars. You are stars no more. And, Moin, even if you have been freed on bail, that does not absolve you in our eyes for maltreating your wife. No Sir. This is not a private matter between man and wife. This is a matter of national disgrace. But my anger at this incident is making me run ahead of the story.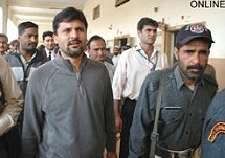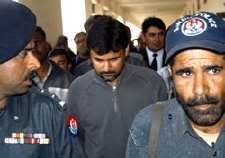 So, first the news as reported in the Daily Times (17 January, 2006):
KARACHI: Former Pakistan captain Moin Khan was arrested by the Darakhshan police late Monday night after his wife Tasleem alias Shama Seher made a phone call to Madadgar 15, complaining that he had beaten her.

According to Town Police Officer (TPO) ASP Azad Khan, the police received a phone call from Seher after midnight. A police team visiting the house found Seher standing outside and Moin Khan screaming at her from within. After a struggle, Moin Khan was taken in preventive detention under Section 151 of the CrPC, the TPO said. The couple was taken to the Darakhshan police station from where Moin was taken to JPMC for a medical examination. Seher was also taken to JPMC for a medical examination later on.

"If injuries are reported by the doctors examining her or a blood test confirms that he was intoxicated, the law will take its course," said the TPO. Darakhshan SHO Inspector Zia Rizvi told Daily Times that this was a domestic matter, "but we brought it on to the court record". Moin was produced in a local court and was granted bail. Seher told Daily Times that Moin had been disturbed for three days. "This isn't something new, its been like this for a while," she added. "He accused me of being involved with his friends. I asked why he was beating me and he told me that he hated the look of my face. He said, "Tum apnay gireban me jhanko, apni shakal dekho, apna character dekho" … There's no special reason. Things were normal but I don't know what had happened as recently he started to get harsh after drinking. I think that Moin still thinks of himself as a young star, Seher, a showbiz person herself, said. "Cricketers have the same life … (Another Karachi cricketers) wife recently separated and got custody of the children. Complaints remain as (many) cricketers treat their wives like this. Woh apnay beewiyon ke sath is tarha ka rawaiya rakhtay hain … Is tarha kay rawaiye mein kon sath reh sakta he? The problem with (some) cricketers is that they are getting better options outside the house. Unhain ghar ki murghi daal barabar lagti he."
Both Moin Khan and the police seem to say that this is a 'personal' or 'domestic' matter. No, it really is not. It is a social matter. A national matter.
This case catches our attention because the man is a former cricket star and the wife a former TV personality. But the story here is repeated every day and goes unnoticed and unreported. His intoxication obviously made matters worse, but the malady here is deeper than alcoholism. It is the way women are treated. The Jansher case was one example, but there have been many others that we have raised here on ATP. Wife-beating is a serious social sin and the sinners here are not only those who do so, it is also those who condone it in the name of tradition or because it is a 'personal matter', and it is also those of see it happening and choose to remain quiet.