As I am writing these lines, International Test Cricket has returned to Pakistan after a gap of 16 months. Today, Pakistan is playing against Sri Lanka at National Stadium, Karachi and as of now Sri Lanka has won the toss and is batting first. Latest score is Sri Lanka 120/2. I'll continue to update the score in Comments section of this post but for now how about we take a look at some statistics of Pakistan and Sri Lanka in Test Matches.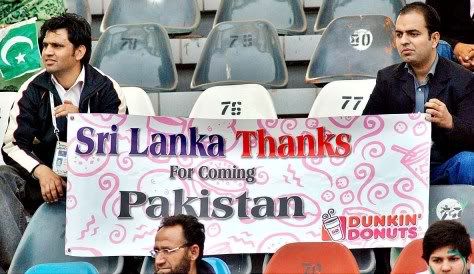 So far Pakistan and Sri Lanka have played 32 test matches. Pakistan has won 15 (46.88%) and Sri Lanka has won 7 (21.88%) matches. 10 (31.25%) matches have been drawn.

Overall Pakistan has played 335 test matches so far with 103 wins (30.75%), 89 losses (26.57) and 143 draws (42.68%).
Sri Lanka on the other hand has overall played 182 test matches with 56 wins (30.77%), 67 losses (36.81%) and 59 draws (32.42%)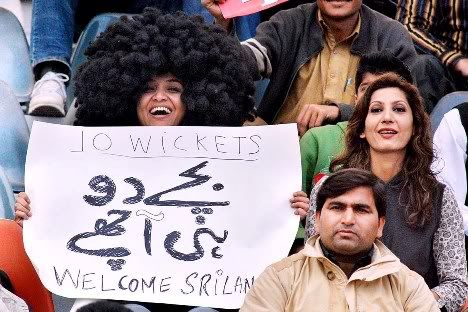 In Pakistan v/s Sri Lanka matches, highest aggregate scorers against each other have been:
(1) Inzamam-ul-Haq (Pak) – 1559 runs at 56.96,
(2) S. Jayasuria (SL) – 1490 runs at 51.37
(3) P.A. De Silva (SL) – 1475 runs at 42.14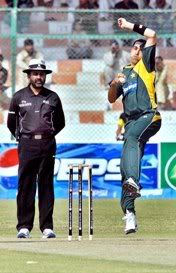 Highest wicket takers against eachother have been:
(1) M Muralitharan (SL) – 79 wickets at 23.31
(2) Wasim Akram (Pak) – 63 wickets at 21.26
(3) Waqar Younis (Pak) – 56 wickets at 22.73
At present the standings in 10 year ICC Test Championship are as follows:
1. Australia (126)
2. South Africa (121)
3. India (118)
4. Sri Lanka (109)
5. England (103)
6. Pakistan (98)
7. West Indies (81)
8. New Zealand (81)
9. Bangladesh (0)
With Pakistan slumped at #6, there is nothing to lose but a lot to gain from this 2 test series. 2nd test match of current series will be played in Lahore from March 1, 2009.
In today's match, Pakistan has given cap to two new players. One is 25 year old fast bowler Sohail Khan who is a local success story coming out of Rashid Latif Cricket Academy and other is 22 year old batsman Khurram Manzoor.
Younis Khan is Pakistan's new captain today where as previous captain Shoaib Malik is playing as an all-rounder. It will be a natural thing to note their performances.
From Sri Lankan side, their most successful captain Mahela Jayawardane is playing his last series.
Sri Lanka has also brought back their seasoned bowler Chaminda Vaas who will be playing in his 109th test match. Vaas has taken 354 wickets in test cricket at 29.22.
And I got this statistic from Cricinfo that: "Sangakkara averages a staggering 82.66 with three hundreds and two half-centuries in five Tests against Pakistan".
We hope that Pakistan wins the series – we have a strong bias here – but we also wish good luck to Sri Lankan team.
For the latest score of the match, you can click here
Photo Credits: Associated Press of Pakistan
ATP's other Posts on Cricket:
1. Should Pakistani Cricket be Regional or Departmental?
2. Shoaib Akhter – A Fallen Hero?
3. Provinces and Islamabad to Compete for the Cricket Title
4. Pakistan vs Zimbabwe – We Need a Few Victories!
5. Cricket Match Moved Out of Karachi – Again
6. National Stadium Karachi – My Debut
7. T20: India beats Pakistan in a Thriller
8. Pakistan Cricket coach Bob Woolmer: Not Murdered
9. Honoring Bob Woolmer: Rename National Stadium, Karachi
10. Quaid-e-Azam Trophy: Karachi Regains title after 5 Years
11. Who is Urooj Mumtaz Khan?
12. Younis Khan, "Moti I miss you"
13. Saving Pakistan – Saving Pakistan Cricket
14. Is Our Cricket Protest Justified?
15. Younis 5000 and Misbah 1000
16. Younis 4000 Yasir Hameed 2000
17. Salman Butt 2000
18. Performance of Pakistani Players in IPL
19. Shoaib Akhtar: How many times can you say you're sorry?
20. Yousuf 9000
21. Cricketer Taslim Arif Passes Away
22. Fazal Mahmood – The Blue Eyed Boy of Pakistan Cricket
23. Work Horses of Pakistan in ODI Bowling
24. Shoaib Akhter: Oops I Did it Again!
24. We Will Miss You Inzamam-ul-Haq
25. Yousuf and Razzaq – Excess Baggage Now?
26. Jeff Lawson is the New Pakistani Cricket Coach
27. Yousuf 8000
28. Afridi 5000
29. Shoaib Malik Accepts a Tough Job
30. Remembering Tikanjoo
31. Bob Woolmer dies of Heart Attack
32. ye dhuwaan saa kahaan se uthta hai!
33. Shoaib Akhter Unplugged
34. Pakistan Cricket: A Chronic Lack of Professionalism
35. Khandaan XI
36. Moin Khan – Former Cricketer – Now a Wife Beater!
37. ek chakkay ke Javed ko…
38. Pakistan Blind Cricketers Win the World Cup
39. Pakistan's greatest Cricket Moment Ever
40. A Pakistan Cricket Dream Team
41. College Cricket: Admajee vs DJ – 1989
42. Pakistan Cricket Statistics
43. Shoaib and Asif banned for doping
44. The Great Beards of Cricket
45. Talking Cricket – Listening Cricket
46. Humayun and Ramzan Cricket
47. ICC Decisions: Victory for Pakistan
48. Inzamam becomes the Most Capped ODI Player
49. Curry in a Hurry
50. Playing Cricket – George Bush Style