There are 4 songs in this post.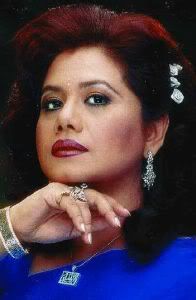 While surfing on YouTube, I was happpily surprised to find followng songs by Runa Laila. Many of you may know that she is the world famous singer from Bangladesh. She has a huge contribution of singing Urdu songs in Pakistani movies. She has also sung Punjabi, Pashto and Bengali songs in Pakistan. Infact, she has sung in 17 different languages of the world.
In Pakistan, Runa Laila has won 2 Nigar Awards, 2 Graduate Awards, 1 Critics Award and a National Council of Music Gold Medal. Besides Pakistan she as won numerous awards in her native Bangladesh as well as in India. There is a large collection of her songs available on YouTube but I picked the 4 that I like the most. I hope you like them too.
(1 of 4)
Song Title: ranjish hi sahih, dil hi dukhanay ke liyay aa
Movie: Mohabbat, 1972
Music: Nisar Bazmi
(2 of 4)
Song Title: humeiN kho kar
Movie: Ehsaas, 1974
(3 of 4)
Song Title: kaaTay ne kaTTeN rattiyaaN, sayyaaN intzaar meiN
Movie: Umrao Jan Ada, 1974,
Music: Nisar Bazmi,
(4 of 4)
Song Title: un ki nazroN se mohabbat ka jo peghaam mila
Music: Nashaad