There goes another much touted institution – the pride of Islamabad. The letter T for Traffic regulation and smooth flow are disappearing with the replacement of their founder boss-T for Officer Taimuri. Initial M for its new boss and for collection of Money in Fines appears to be its credo now.
When the people started to observe speed limits, fine collection with a hefty % cut for ITP dwindled and the appearance of tracking cameras became infrequent. In any case, with the Steeple-chase style anti-terrorism barriers and check points mushrooming, who could be speeding any way? The Seat belts compliance discriminated against the Islamabad-ites who alone paid such fines. The all and sundry out-of-towners, including the invading MNAs, MPAs, countless Ministers of all hues and descriptions and the older model vehicles visiting the nation's capital had never heard or seen a seat-belt and were wasting a lot of ITPs time away from their pursuit of the all important, money collecting tasks at hand. These outsiders were either conveniently ignored or were politely reprimanded.

Finding new and creative ways to make up for the collection – deficit had to be identified and they were. The latest practice is for the ITP officers in formidable numbers to raid some traffic signal or a corner and start catching drivers for some presumed traffic light and other obscure violations. Anyone who may be in the middle of a turn or a crossing even as Yellow light comes would pay a hefty fine. To top this, the speed limit posted along traffic signals at one Markaz is 25 km/hr OR 15 Mph. Hardly a couple of cars can move at this speed when the light changes and BINGO, the next driver is found in violation and pounced upon for fine collection. Islamabad's Einsteins are at work!
The reverse side of the Traffic Violation Ticket under Schedule XII lists 71 Offences and indicates the Penalty for each one of them. The fact is that the I.T.P. has only focussed on the very first item namely: "Exceeding prescribed speed limit" with a penalty of Rs. 200/=. It is a well publicised fact that the I.T.P. is given a hefty percentage of the amount they collect, as a bonus. Violations of the other 70 are more dangerous and serious offences for traffic and are rampant. But, these violators are not important for ITP to apprehend.
If ITP likes to raise more revenue for itself, they should go after the other 70 offences it has painstakingly elaborated and identified as violations. There is much more revenue catching these other violators. In so doing they will also serve and benefit the cause of traffic – which is their raison d'être!
A proud and efficient traffic police would have Service as their motto. Some of its most important tasks would include: maintaining a smooth flow of traffic; safety of pedestrians – in particular the students, elderly and the disabled; keeping roads and sidewalks cleared of hazards and parked cars; ensuring that traffic signals are in synch and in working order; enforcing safe driving, turning and other regulations; monitoring safety of passengers in public transportation vehicles. The List of 71 Violations in ITP's Schedule XII provides everything they need to do these jobs. Alas, they are unable to read beyond the first violation of speeding listed by them.
By doing their job in accordance with their own Charter they will also contribute to the overall safety and security situation in general. They are the ones who are present all over the place unlike the other regular law enforcers. They have also been well equipped with latest technology and provided ample transportation to ensure their mobility. They are polite and one would not expect otherwise from a worthy police officer. If they have claimed to be nation's finest and are indeed also the best paid, their actions as an efficient force have to be matched by their claims.
Anyone who drives around Islamabad is bewildered at how the speed system is designed. There are scores of different, randomly posted speed limit signs (ranging from 25 – 80 kms/hour) witnessed in Islamabad. Adjacent or the same streets display multiple signs to confuse the motorists. Perhaps it is a trapping method for speeding violations! No regard is shown to: traffic needs and road size; the lack of synchronisation of lights and, blinking lights at some of the busiest cross roads; the absence of traffic police at the busiest traffic areas, while their overwhelming presence is lurking with cameras at the 60-80 kms/hr roads. The propensity for blocking street cut-outs without regard to the traffic needs and volume in their unquestioned desire to make the city "signal free;" and, the un-coordinated menace of terrorism related street blocking / barriers further complicates the flow of traffic.
The speed sign system by itself is confusing for drivers, hazardous for traffic and seems to serve the singular purpose of collecting fines. Look at the photo below, which is a small sampling of the plethora of signs in Islamabad.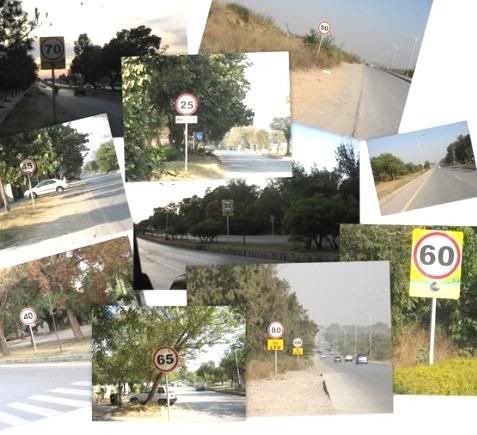 The entire traffic system in Islamabad is now collapsing, despite a great network of some of the finest and widest roads available anywhere in the country, used by generally compliant and law-abiding residents. One is also intrigued by finding traffic signs and regulations posted in English language, given the very low level of literacy of the people in any language how can we expect compliance? Maybe the traffic police in general and particularly in Islamabad truly believe that all violators are English – proficient!
The new leadership of ITP has the opportunity to analytically review all aspects of their job at hand; including those pointed here and bring about necessary changes. That will make them a model of traffic regulation to be emulated by the rest of the country.