Introducing small cities located along the National Highway Network of Pakistan has remained a favourite topic at ATP. While most people knows a good deal about larger cities, the smaller ones get neglected and through these pages we try to highlight their points to possible fame. Our regular readers may remember our travels across highways N5 and N65. Today we are starting our journey on the second longest highway of Pakistan. It is famously called the Indus Highway because for most part of its length, this highway runs next to the river Indus. In National Highway Authroity (NHA)'s designation, Indus Highway is called N55. Its zero point is the city of Hyderabad in Sindh and its last point is the city of Peshawar in NWFP. The total length of this highway is 1265 kilometers. Today we'll start our journey from Hyderabad and travel for 378km to the city of Shikarpur. Our route for today is designated in Yellow color in the map to the right-above.

Hyderabad (km marker 0)
A detailed post on Hyderabad is still due at ATP. Today we'll skip this wonderful city one more time and cover our journey northward on N55 but I want to make a promise that we'll soon come back to Hyderabad and cover its history and architecture in detail. Overtime we have covered Hydrabad and environs at ATP in some indirect posts below:
(i) Hyderabad: How Clean is our Drinking Water
(ii) Taking Off at Hyderabad Runway
(iii) Playing for the Carrom Title in Hyderabad
(iv) Slow and Comfy in Hyderabad
(v) Rashidabad
The city of Hyderabad is the starting point of Indus Highway (N55). The famous Ghulam Muhammad (GM) barrage (also called Kotri barrage) on Indus forms a bridge and part of Highway N55 as it connects the city of Hyderabad on East bank of Indus with the city of Jamshoro on the West Bank. The photo to the right shows Kotri Barrage which forms part of the Indus Highway.
Jamshoro (km marker 4):
Jamshoro is famous for several important institutions located here. Notable are the University of Sindh, Mehran Engineering University, Liaquat University of Medical and Health Sciences as well as the Sindh Text Book Board located here. Allama I.I. Kazi is also buried at Jamshoro inside the campus of University of Sindh.
Jamshoro is also famous for being a terminus of Pakistan's longest high voltage transmission line, the Tarbela-Jamshoro Transmission line. WAPDA's network is connected around this high voltage (500 KV) transmission line which has its one end in Tarbela (NWFP) and other end in Jamshoro (Sindh). From Jamshoro a feeder connects WAPDA's transmission sytems to Karachi's electricity network (managed by KESC). I hope our reader's didn't mind this little detour from Pakistan's highway network to Pakistan's Electrical Network.
Petaro (km marker 20)
Petaro is famous for a cadet college located here. Many of Pakistan's famous personalities including the current President Zardari are graduates of Cadet College Petaro.
Photo above is the entrance to Cadet College Petaro.
Manjhand (km marker 64)
Manjhand is a small town on Indus Highway with a population of less than 10,000. The area around Manjhand is spotted with several archaeological sites and burial grounds. One such grave yard in Manjhand which is visible from N55 is shown to the right. This photo is courtesy of Masd at flickr.com.
Sann – Junction to Ranikot Fort (km marker 79)
Sann is a small town on Indus highway. I do want to mention that Sann was the hometown of G.M. Syed. Sann is a janction point to visit the Ranikot fort. Ranikot fort has a circumference of 24km and it is said to be the world's largest fort. A metalled road from Sann goes to Ranikot. ATP Contributor S.A.J. Shirazi has covered Ranikot fort in a detailed post here.
Amri (km marker 100)
Amri is a pre-historic site on Indus highway. The lower levels of excavation here indicate that the earliest settlement here predates the Indus Valley Civilisation and is distinctive for its light-colored and geometrically designed pottery. There is not much to see in Amri now but the artifacts from Amri are at display at the National Museum of Pakistan in Karachi.
Lakhi Shah Saddar (km marker 118)
The town got its name after a saint named Shah Saddar who came to this area and meditated in an area cave in the Kirthars. At the back of this cave a tunnel disappears into the darkness. There is a myth famous in the area that the tunnel leads to all the way to Medina and that the saint used it to go on his Haj.
The area around Lakhi Shah Saddar is dominated by narrow defiles and steep crags of the Kirthars. This area is astonishingly beautiful because of the hilly pass here. For example look at the photo below of a crack in hills in Kirthars near Lakhi Shah Saddar. This photo is courtesy of Shaheryar Lakhani.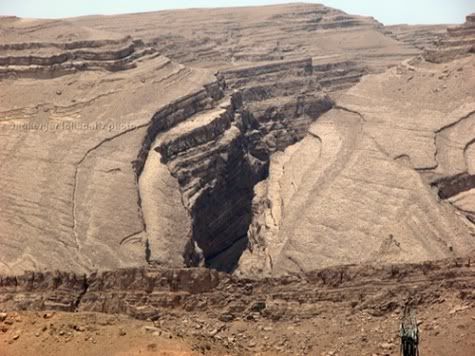 People come here from far and away to bathe in the hot sulphur springs that emerge from the base of the mountains. There are also bubbling streams, rock pools and hundreds of caves in the area.
The photo below shows the tomb of Shah Saddar. Photo credits belong to Ameer Hamza
Tirath Laki (km marker 130)
A short video I found about travel on Indus Highway through the Kirthar Range
Sehwan (km marker 134)
Sehwan is famous for the shrine of Lal Shahbaz Qalandar. We have covered the shrine and urs of Shahbaz Qalandar in an ATP post here. Population of Sehwan in 1998 was 34000.
Bubak/ Lake Manchhar (km marker 148)
Manchhar Lake is Pakistan's largest natural lake. It is not located on Indus Highway but a few kilometers west of Bubak Town. Mancchar lake is fed by the flood waters of River Indus. When flood waters recede the water level in lake also drops. When full, Manchhar lake can be as deep as 35 feet at its deepest depresseion points and can extend all the way west to Kirthar Mountain ranges.
Look at the satellite image below which shows the location of Manchhar Lake and Sehwan. Also note the relative routes of N55 and N5 on either side of River Indus.
A boat trip at Manchhar lake can be a good detour, if you have some time to spare on your travel on Indus Highway. One can get a good glimpse of culture of famous boat people of Manchhar Lake.
The Boat People of Manchhar Lake
More than 20000 people who mostly belong to communities of Mohanna fishermen depend on Lake Manchhar for their livelihood. These people permanently live in the boats on the lake. The insight guide to Pakistan descirbe the boats of Mohannas as
Their traditional, high-prowed boats, also occasionally still seen on the Indus, have largely disappeared, but the houseboats that are used are picturesque enough, with their intricately carved decorations. Even the small fishing boats have beautiful designs etched into their gunnels. Boats can be hired from the embankment, where there is also a small friendly bazaar. Going out into the channel you pass the lake dwellers going about their business, the women looking after the home or embroidering, children splashing about and the men out fishing or harvesting the reeds that grows in the lake. Buffaloes cool themselves in the shallows. The fishermen use nets and submerged lines to catch fish in the traditional manner, through there are references to a noisy form of communal fishing where a flotilla of boats scare fish into a net. The locals have a rather peculiar method of catching water fowl. Men wade out with stuffed egrets on their heads to act as a decoy. Be that as it may, the lake still supports a rich birdlife.
Bhan (km marker 160)
Khudabad (km marker 172)
Khudabad is a very historic town on Indus highway. It experienced glory in the 18th century when the Kalhora ruler Mian Yar Muhammad built his capital there, but soon afterwards the capital moved to Nerunkot (present day Hyderabad). Khudabad is now a small town but it does have a very large mosque dating back to Mian Yar Muhammad's time. The massive building of the mosque is built on a rectangular platform of 57 x 37.5 m and is lavishly decorated with a wonderful glazed tile work.
Photos below are some of the representative shots of this famous Khudabad mosque. First photo shows the intricate tilework done on the facade of the mosque. Photo credits go to Agha Waseem.
In the following photo the recatangular mosque platform is very visible.
Following photo of Khudabad mosque is courtesy of Raja Islam and shows the mosque entrance.
Dadu (km marker 184)
Dadu city's population in 1998 was 99000. Dadu is also the terminus of Dadu-Dureji-Hub (Karachi) Motroway M7.
Road Junction to Gorakh Hill:
Dadu is a junction to go to the famous hill spot of Gorakh Hill. The distance from Dadu to Gorakh Hill is 93km. Gorakh Hill as we have covered in an ATP post before is one of the highest road-reachable point in Sindh (altitude 5500 ft) and it occasionally snows here in winter.
Road Junction to Moro on N5:
Dadu is a very important junction as a road eastward from here crosses River Indus via Dadu-Moro bridge and connects to the town of Moro which is located on Karachi-Torkham National highway N5.
Kakkar (km marker 212)
Khairpur Nathan Shah (km marker 230)
Population in 1998: 25000
Mehar (km marker 245)
Nasirabad and Road Junction to Mohen-jo-Daro (km marker 267)
Population of Nasirabad town in 1998 was 23000. It is a very important junction on Indus highway as a road from here goes to the world famous archaeological site of Mohen-jo-Daro. The road from Nasirabad goes through the towns of Badrah and Dokri and reaches Mohen-jo-Daro which is located less than 20km east of Nasirabad.
Wagan (km marker 281)
Larkana (km marker 307)
Larkana is the largest city of Pakistan anywhere on the 1200 km length Indus Highway between the two terminal cities of Hyderabad and Peshawar. Larkana's population in 1998's census was 270,000. As written above our , bigger cities of Pakistan including Larkana are relatively well known therefore emphasis in this post will be more on smaller cities of Pakistan.
Larkana is famous for being home town of Bhutto family and the famous Bhutto home Al Murtaza is located here. It is also a major railway and road junction.
Before moving on further on Indus higway, I do want to mention that Larkana is famous for the quality of guava produced here. One can see miles and miles of guava tress around Larkana area.
Larkana also has a road leading to Moen-jo-Daro.
Road Junction to Toshangi Gorge – The Grand Canyon of Sindh:
Larkana on Indus Highway is the starting point of road to Toshangi Gorge – famously called as the Grand Canyon of Sindh. We've covered Toshangi Gorge and how to get there in detail in an ATP post here.
Road Junction to Khairpur on N5:
A bridge on River Indus is currently under construction. When completed it will connect Larkana on west bank of Indus with Khairpur on the east bank. Khairpur is also one of the major cities of Pakistan located on Karachi-Torkham national highway N5.
Following is the photo of the under construction Larkana-Khairpur bridge over Indus taken on July 08, 2009.
Ratodero (km marker 334)
Population of Ratodero in 1998 was 40000. Ratodero was supposed to be the terminus of Pakistan's longest Motorway viz 1072km long Ratodero-Gawadar M8 but lately this Motorway's Ratodero-Khuzdar-Hoshab section seems to have been put on back burner.
Following is a view while traveling on the Indus Highway – N55. This photo is courtesy of Masd at flickr.com.
Ganejo/ Garhi Yasin (km marker 362)
Population of Garhi Yasin is 14000. It is a small town in terms of population but very big in terms of its political clout. Several people from here have earned fame at Pakistan level. Lawyer A. K. Brohi; the two ex-speakers of Sindh provincial assembly Agha Badar Alam Durrani and Agha Sadruddin Durrani; Moulana Taj Muhammad Amroti who was a leader of Pakistan's Independence movement, Moulana Din Muhammad Wafai etc all belonged to this area.
Shikarpur (km marker 378)
We will end our today's journey on Indus highway at Shikarpur. It is also the junction point of Highway N65 and N55. Shikarpur was covered by ATP in detail in our earlier post on Sukkur to Quetta by N65 here.
ATP's Posts on the Road Network of Pakistan:
The Indus Highway N55 Series
1. Traveling on N55: The Indus Highway: Part I – Jamshoro to Shikarpur
2. Traveling on N55: The Indus Highway: Part II – Shikarpur to Dera Ghazi Khan
3. Traveling on N55: The Indus Highway: Part III – Dera Ghazi Khan to Dera Ismail Khan
4. Traveling on N55: The Indus Highway: Part IV – Dera Ismail Khan to Peshawar
The National Highway N5 Series
5. Traveling on N5 – I: Karachi to Rohri: 483 km
6. Traveling on N5 – II: Rohri to Bahawalpur: 361 km
7. Traveling on N5 – III: Bahawalpur to Lahore: 417 km
8. Traveling on N5 – IV: Lahore to Rawalpindi: 272 km
9. Traveling on N5 – V: Rawalpindi to Torkham: 216 km
Others:
10. Sukkur to Quetta by Highway N65
11. Friendship Tunnel, Kohat
12. RFID based E-Toll System on Pakistan Motorway
13. Peshawar-Islamabad Motorway M1 is inaugurated
14. Lyari Expressway inaugurated
15. GPS Automotive Navigation in Pakistan.
16. Lahore Ring Road Project