We started our journey on N55 Indus Highway from its zero point at Jamshoro (N55-Part I) and covered 384 kilometers to reach the city of Shikarpur (N55-Part I). In Part II we continued our journey on the right bank of Indus and drove 333 kilometers more to reach Dera Ghazi Khan (N55-Part II). Today we'll pick up our journey just north west of Dera Ghazi Khan and try to reach Dera Ismail Khan before the end of this post.
Our title photo to the right is the famous Chogallah lookout of Dera Ismail Khan which we will visit towards the end of this post. This building was built in 1940 by the British as a lookout for law enforcement people. It is also the meeting point of 4 bazaars viz. Commisionary bazaar, Muslim bazaar, Bakhri bazaar and Kalan bazaar. Well more on D.I.Khan later. First we have to drive 214 km to reach it. Lets get out of Dera Ghazi Khan first. aao mere saath!

Shah Sadar Din (km marker 747)
Just outside Dera Ghazi Khan a road takes off towards west (on left side) and it goes to the famous D.G. Khan cement company. Further north of this take-off point, a canal from the famous Taunsa Barrage crosses under the highway N55. The satellite images below show these two landmarks as well as the small town of Shah Sadar din which lies few kilometer north of the canal crossing.
This may be trivia but for the record let me write that elevation of Shah Sadar Din is 116 m (383 ft) above seal level. The coordinate location of this town is 30°16'44N 70°43'49E. Shah Sadar Din is not only a small town but also a Union Council in Dera Ghazi Khan district.
Shahdan Lund (km marker 767)
Shahdan Lund is the junction point from where a road to the east goes to famous Taunsa Barrage and connects to the town of Kot Addu across the River Indus.
Road Junction to Taunsa Barrage (just North of Shahdan Lund)
I couldn't find the exact kilometer marker for this junction point. Help is sought from readers. If one is traveling on Indus Highway then a short detour to east to visit Taunsa barrage may not be a bad idea.
Taunsa barrage is the last barrage on Indus in Punjab province as the waters flow downstream to Sindh province. It was completed in 1958. A photo of Taunsa barrage is shown below. It is a multipurpose construction with road and rail bridges as well as a hydel power station.

The image abouve is courtesy of Awais Rehman
The small waters of Indus between Taunsa and Sukkur barrage are also home to the rare blind dolphin of Indus. Since 1972 the wetland around Taunsa Barrage has been declared as a wild life sanctuary. Three canals are taken out of Taunsa Barrage. One on the right side is called Dera Ghazi Khan Canal and the two on the right are called Muzaffargarh Canal and Taunsa-Panjnad (T.P) Link Canal.
I found following video a very good slide show on photos of Taunsa Barrage. take a look:
Taunsa (km marker 798)
The town of Taunsa is located on Main Highway N55. As obvious, the Taunsa barrage described above derives its name from being in the vicinity of this town. Taunsa is also famous for the shrine of Pir Phatan Hazrat Khawaja Shah Suleman located here. People sometimes call this place Taunsa Sharif because of this shrine. The photo to the right is 'kalma chowk' in Taunsa. It is a famous landmark in the city. While it is not directly located on N55, a road from kalma chowk connects to N55, as can be seen from the satellite image below.
Population of Taunsa, according to 1998 census was 38000.
Retra (km marker 824)
Tibi Qisarani (km marker 832)
Nutkani (km marker 846)
Provincial Boundary between Punjab and Khyber Pakhtunkhwa
The provincial boundary between Punjab and Khyber Pakhtunkhwa is located somewhere between Nutkani and Ramak. Exact kilometer marker is not known to me yet.
Ramak (km marker 872)
Paroa (km marker 896)
Paroa is a junction point for a link road between highways N55 and N50. This link road takes off from Paroa to the west and connects to D.I.Khan-Loralai-Kuchlak highway called N55.
Road Junction to Bhakkar/Darya Khan
Just a few kilometers before N5 enters into Dera Ismail Khan, a road takes off the east, crosses the Indus and connects to a town called Kotla Jam on the other side of Indus.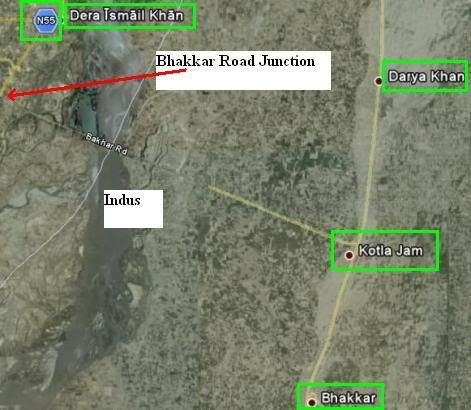 The image above shows this junction off N55 where Bhakkar Road goes east of N55 and connects to Kotla Jam which in turn is connected to Darya Khan to the north and Bhakkar to the south.
Dera Ismail Khan (km marker 931)
Dera Ismail Khan is the end point of our today's journey. It is a major junction point to cross Indus to reach Darya Khan on the east or take Highway N50 to Loralai and then to the town of Kuchlak in Balochistan. Another road from D.I.Khan goes to tribal areas and connects to Tank.
A flood in Indus in 1823 had destroyed the city of Dera Ismail Khan. The present city was rebuilt few kilometers west of the Main river channel. The municipality of Dera Ismail Khan is as old as 1867 when British established local Government here.
According to 1998 census, D.I.khan had a population of 90000. It
The following image shows all the roads and highways as they branch out or converge into the city of Dera Ismail Khan, including the N55.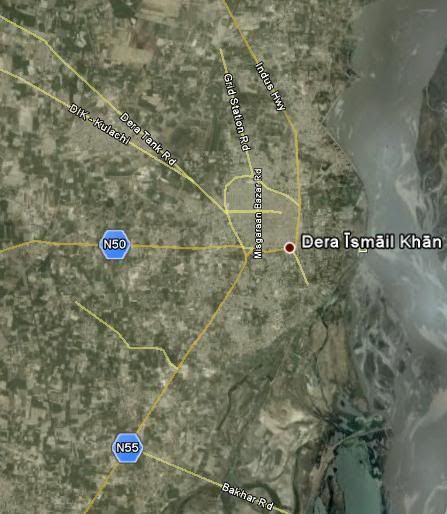 This completes our 214km leg of journey on N55. Next time we'll try to reach Bannu/Kohat or even Peshawar which is now within reach of few hours journey. Peshawar is 336 km from D.I.Khan. So look for our next travel episode.
ATP's Posts on the Road Network of Pakistan:
The Indus Highway N55 Series
1. Traveling on N55: The Indus Highway: Part I – Jamshoro to Shikarpur
2. Traveling on N55: The Indus Highway: Part II – Shikarpur to Dera Ghazi Khan
3. Traveling on N55: The Indus Highway: Part III – Dera Ghazi Khan to Dera Ismail Khan
4. Traveling on N55: The Indus Highway: Part IV – Dera Ismail Khan to Peshawar
The National Highway N5 Series
5. Traveling on N5 – I: Karachi to Rohri: 483 km
6. Traveling on N5 – II: Rohri to Bahawalpur: 361 km
7. Traveling on N5 – III: Bahawalpur to Lahore: 417 km
8. Traveling on N5 – IV: Lahore to Rawalpindi: 272 km
9. Traveling on N5 – V: Rawalpindi to Torkham: 216 km
Others:
10. Sukkur to Quetta by Highway N65
11. Friendship Tunnel, Kohat
12. RFID based E-Toll System on Pakistan Motorway
13. Peshawar-Islamabad Motorway M1 is inaugurated
14. Lyari Expressway inaugurated
15. GPS Automotive Navigation in Pakistan.
16. Lahore Ring Road Project