Adil Najam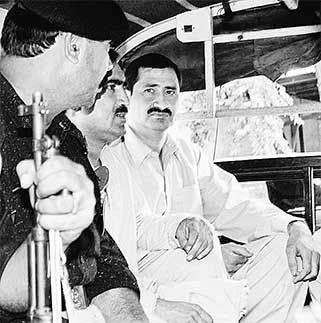 Jansher Khan was the last of the great 'Squash Khans' of Pakistan.
He was not the greatest by any stretch; that would have to be either Jehangir or Hashim But he was the last. And as if that wasn't dubious distinction enough; one can now also say that he is the most disgraced (and disgraceful) too.
Yes, that picture above is Jansher Khan being hauled to the jail by Peshawar police (read on, it gets more interesting).
I met Jansher a number of times in my journalism days, but I never liked him. The self-styled 'bad boy of squash' was never as endearing to me. He was arrogant, he was misbehaved, he was ill-tempered, and most importantly he was everything that my great squash hero (Jehangir Khan) was not. Jehangir Khan was charming, humble, and – above all – a gentleman. Jehangir was also, quite easily, the superior player even though it was Jansher was the one that dethroned him.
But I am getting ahead of the story here, so let me just quote from Dawn (15 July, 2006) to explain the essentials.
Former world squash champion Jansher Khan, his brother-in-law and four others were sent to prison on Friday by the court of judicial magistrate Ziaur Rehman. Jansher Khan and his brother-in-law Mahboob Khan were arrested on Thursday after an additional and sessions judge dismissed their pre-arrest bail petitions in a case of trespass and attack on a woman. Four rivals of Jansher Khan � Abdul Shakoor, a retired air force official, and his nephews Kamran, Arif and Asif � were also sent to the prison by the judicial magistrate. Jansher Khan had accused them of attacking him.
All the six accused were produced before the court by police. The police did not seek physical custody of the accused and the court decided to send them to prison… An FIR was lodged against Jansher Khan, six times British Open champion, and four of his companions with the West Cantonment police on June 7 by Rukhsana Habib. She charged them with storming her house in the Lal Kurthi area.
The complainant said her brother-in-law Abdul Shakoor, who was a friend of Jansher Khan, had borrowed Rs. 1 million from him in 2003 on condition that he would pay him interest on the bank rate. She said Mr Shakoor had given Jansher Khan documents of her house. She said Mr Shakoor had paid Rs. 1.7 million to Jansher Khan, but he had been allegedly demanding Rs. 4 million. The complainant alleged that Jansher Khan along with some accomplices had stormed her house and occupied it by dislodging her and her children.
The good news here is that the judge has taken a strong and apporpriate decision, despite Jansher's celebrity (one hopes this is an indication of a judiciary-wide attitude). The bad news, of course, is Jansher's behavior. Writing in The News, senior journalist Rahimullah Yusufzai, who also reports for various international publications including Time, ABC News, etc., correctly points out that we should have seen this coming:
[Jansher Khan] was never able to become a role model due to his numerous human weaknesses. Those who knew him were, therefore, hardly surprised when he was arrested a few days ago and sent to jail… The squash player had won fame and accumulated wealth at a young age. This went into his head and made him do things unbecoming of a person enjoying star status.
… Naway Killay, a village that is now part of urban Peshawar, is home to countless squash champions. Hashim Khan, Azam Khan, Roshan Khan, Mohibullah Sr., Mohibullah Jr., Qamar Zaman, Jehangir Khan and so many others rose from the dusty lanes of Naway Killay and became household names due to their exploits on the squash courts at home and abroad. Jansher too came from Naway Killay, though he shifted to nearby Gulberg after becoming rich… [As Jansher became famous] he was much sought after by squash organisers and fans. Girls too followed him as his fan club grew. He married one such girl in Singapore and dumped her after a while. His personal life made headlines in tabloids in London and elsewhere. He was now a public figure and in the eye of the storm. The young man often found it difficult to cope with the situation and landed in difficulty… His inadequate education and poor manners proved formidable barriers for him to win genuine popularity. He used to irk people by crudely displaying his wealth.
The case that landed Jansher in prison has also exposed the weaknesses of his character. The fact that he advanced money to a needy footballer friend, Abdul Shakoor, and demanded an unusually high interest rate showed his greedy nature. It also reminded us that usury is being practiced not only by banks but also be individuals. It is unbelievable that Shakoor paid Jansher Rs. 1.7 million after getting a loan of Rs. 1 million only. According to Shakoor, Jansher was demanding up to Rs. 4 million in accumulated interest. By allegedly occupying the home of Shakoor's sister Rukhsana Habib and beating and forcibly evicting the woman and her children, Jansher did something that cannot endear him to anyone.
P.S. To be fair (and also because I wasted a good 2 hours trying to figure this one out), there is a news item floating on the web from news agency ANI, and also a story in the Dialy Times, that alleges that Jansher had "gone missing after he quarrelled with his opponents at West Cantonment police station (Peshawar)."
This was reported on July 14 and the news of his having been sent to prison is from July 15, so if he did 'disappear' he obviously appeared again and went before the magistrate who then sent him to prison. Supposedly, he then filed another bail plea which was turned down on July 20. That is the best sequence of events that I have been able to piece together, do let me know if I got it wrong.