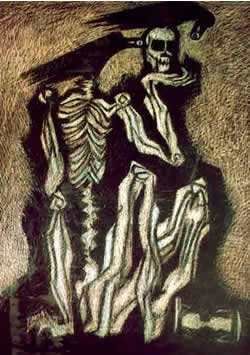 Adil Najam
An Islamabad-based reader alerted me to the news about Shagufta's tragic death at the hands of her father and brothers; but really at the hands of societal ignorance and superstition. This is a story of 'jahalat' in its truest, deepest, most shameful, and most repulsive form.
Why was Shugafta axed to death – and later burnt – by her family? (Her father, three brothers, and her younger sister were all differently involved.) because they all believed that she was possessed by demons!
And why would they think so? The story has layer over layer of complications and meaning about what is wrong, not just here but in too many places: supposed 'spiritual mentors' (pirs) instigating hatred, regressive beliefs and customs, the pressures of a postponed marriage, possibly incest, and more.
There is so much that is sad here, so much that should be analyzed, so much that needs to be put right. But, for now, let me leave that to you and just reproduce the news item from Dawn (December 10, 2006):
Shagufta, alias Surrayya, the ill-fated girl killed by her father and brothers in a Harappa village on Wednesday was normal. This was learnt during a visit to the village on Saturday.

Surrayya, 22, was axed to death by her father Jamal Arain, brothers Ashraf and Sharif after being instigated by her younger sister Razia in their house at 1-10L village on Wednesday. Jamal, a vendor, has now three sons – Ashraf, Sharif and Aslam – and a daughter, Razia. All family members, including the arrested Jamal and his two sons, seemed to be insane. They repeatedly claimed that Surrayya was possessed by demons that wanted to kill all the family members.

They said Razia had found a ring outside a seminary where she learnt the Quran. They said she took the ring as of gold and placed it on fire to test the metal. They said there was a burst and demons started coming to their house. They said demons possessed Surrayya, who was leading a normal life just a week ago and was considered to be the most responsible member of the family by the villagers.

Jamal told Dawn that the demons inside Surrayya tried to kill him and his family members. He said he had no choice but to kill her. Her brother Sharif claimed that his spiritual mentor Sain Khoi Wala addressed him through Razia and told him that there were demons inside Surrayya and advised him to kill them. "I and other family members helped the father in killing the demons and not Surrayya. We did it to save our family," he said.

When asked, the villagers said that Jamal and his family members were a little unsocial but they never observed any abnormality in them in the past. They said Surrayya was a sensible girl and she used to do household chores like any other normal girl. They, however, said Jamal and his family members were superstitious to the core and they believed in black magic as well.

A few days ago, they said, they observed some abnormal practices in Jamal's house. Qari Zahid, who teaches the Quran to Razia, told Dawn that Sharif asked him two days before the murder of Surrayya to recite the Quran in his house along with two dozen people. He said he did so. He said Sharif told him later that his sister Razia informed him that Allah had selected him (Sharif) as (Haji) and now all people should call him as Haji Sharif. Razia had also informed Sharif that Surrayya was possessed by demons, Zahid said.

On Wednesday night, he said Jamal's neighbours took him to his (Jamal's) house and he heard noise inside. "We found the door of the house locked from inside. Some people climbed the wall of the house and saw Sharif and Ashraf manhandling their sister."

"We saved her and called out police. Harrappa police officials snubbed male members and warned them. Locals and policemen left at around 1:30am." On Thursday morning, Zahid said the locals saw smoke billowing from the house and Jamal sitting outside. They called out police who found the charred body of Surrayya inside the house. Qari Zahid said the conduct of Razia after the incident was strange. He said she was his student and had never acted the way she was behaving.

The reporters also saw her holding bricks into her hands. She reportedly killed two goats with the bricks on Saturday. Jamal's wife Naseem Akhtar, alias Laddu, said Surrayya's Nikkah had taken place six months ago. She said the family wanted to hold a joint wedding ceremony of Surrayya and Sharif, who was engaged. His in-laws reportedly broke the engagement. It was learnt that the delay in her marriage upset Surrayya and she burnt her dowry in protest. Her father and brothers got mad at her and cursed her.

Sharif said their (the family's) spiritual mentor Sain Khoi Wala, who lives in Chichawatni, told them that Surrayya had been unlucky for them and they started hating her for this reason. Meanwhile, Jamal, Sharif and Arshad were sent to the Sahiwal Central Jail on a 14-day judicial remand.
The paintaing at the top of the post is a famous oil canvas by Sadequain.