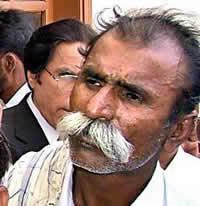 Darwaish
I was watching the details of SC registrar Syed Hammad Raza's mysterious murder on Geo news this morning when I saw another breaking news about the arrest of DIG SalimUllah Khan by Sindh police from Islamabad.
The name suddenly rang a bell in my head and reminded me of that famous bonded labour case of Haari/peasant Manoo Bheel which got very famous in 2006 and early 2007. DIG SalimUllah Khan was the main investigation officer of the case of Manoo Bheel in Sindh. It was one of the many cases in which Chief Justice of Pakistan took suo moto notice and was taking personal interest. I don't know how many of readers here actually followed this tragic story of a peasant from interior Sindh so let me share some background.
Originally from Thar, Manoo Bheel migrated to an irrigated area after a drought and in 1980s started working with a zamindar named Hayat Rind near Naukot in district Mithi as a working partner. After some years Rind claimed that Manoo had taken an advance so he refused the payment of Manoo's wages and sold Manoo and three of his brothers and two of his in laws with their families (total 21 family members) to another zamindar named Abdul Rehman Marri in Sanghar district.
At Marri's farm, the peasants started meetings to plan their escape and arranged for the escape of Kirshan Kolhi who later met many political, social and human rights activists and persuaded them to work for the freedom of other bonded labourers on that farm. Under pressure, local administration raided the farm of Marri in the presence of human rights activists from Pakistan and United Kingdom. At the time of raid Manoo was working at another farm belonging to the same zamindar so he was not released but 71 others, including members of his family, were released in this single raid. As the only remaining captive, Manoo was tortured for his alleged involvement in raid. After some time Manoo too was released.
On 2nd April 1998 Rehman Marri along with another zamindar, Bashir Chowdri raided their transit residence with vehicle no. 0233 and kidnapped nine family members of Manoo who are still untraceable. Among those abducted were Khero (father, aged 70), Akho (mother, 60s), Motan (wife, 40), Talal (brother, 25), Momal (daughter, 13), Chaman (son, 10), Kanjee (son, eight), Dhanee (daughter one) and a relative Kirto. Manoo is on token hunger strike in front of Hyderabad Press Club since 19 January 2003. Nothing further happened on this case until in 2006, Chief Justice of Pakistan took suo moto notice of Manoo's case while considering an application of a Swedish human rights activist, Torborg Isakssan. After the initial proceedings, in November 2006 SC gave one month deadline to inspector general (IG) of police for Sindh Jehangir Mirza for the recovery of a peasants family. Daily Times reported in November 2006:
A Supreme Court bench consisting of Chief Justice Iftikhar Muhammad Chaudhry, Justice Muhammad Nawaz and Justice Syed Saeed Ashhad rejected police report regarding efforts made for the recovery of abducted people. "All of this is paper work and we want concrete results. From now onward it will be the IG's duty to conduct the investigation of this case himself and produce the family in the court on the next hearing date," the bench ruled. The chief justice had appointed DIG Salimullah Khan to find the kidnapped people, but during the case pendency Salimullah was suspended after serious differences with the Sindh IG.

"The man appointed by the court is disliked by you. He is transferred. That is why we are now entrusting this task on you," said the chief justice.
Sindh police failed to produce Manoo Bheel's family on next hearing and the SC gave them one last chance till April 14, 2007. Supreme Court of Pakistan also reinstated DIG SalimUllah Khan later on to carry on investigation on the case. Unfortunately, CJ himself was suspended on March 09 before he could have taken any serious action against police officials.
So watching the DIG arrest story this morning reminded me of the poor peasant who is still hoping that may be one day, he will be able to meet his family. I am not sure I am convinced that they are all even alive now. DIG SalimUllah Khan spoke to The News just before his arrest on Monday and said many police officers, including the IG, were not happy with the progress in the Manoo Bheel case and the arrests of the main accused in the case, landlord Abdul Rahman Marri, and some SHOs on the charges of running illegal and private torture cells.
I am being punished for taking action against lawbreakers and showing development in the Manoo Bheel case under the directives of the Supreme Court of Pakistan, which annoyed my IG, Khan said. The basis of the orders was illegal and unjustified and I will fight to get justice at all costs and even bring the situation to the knowledge of the Supreme Court, he said, noting the apex court had appointed him chief investigation officer in the Manoo Bheel case.
I don't know what will happen to this case now as both the men who were trying to provide Manoo Bheel some kind of justice are now seeking justice for themselves. Its amazing we never realized how many similar kind of public interest cases Chief Justice of Pakistan was listening before he was suspended. I started going through the detailed proceedings of only a few and not only I was deeply moved by some of the cases and remarks made by CJ but also it helped me better understand why police officials, federal government, Sindh government, agencies etc were not happy with CJ.
We also saw on 12th May how Chief Justice Sindh High Courts orders were simply ignored by the administration. It also raises questions about why is it that judges in Pakistan seem completely unable to apply the fundamental legal principle of habeas corpus and order police or military officers to produce detained or arrested persons in court? SC bench is yet to give a verdict on CJ mishandling case. Tough decisions have to be made and example needs to be set at this defining moment of our history. Without resolute words and deeds from judges, police and soldiers will remain unimpressed and at ease, no matter the extent of their alleged abuses, and the number of cries from around the country against them. People in Pakistan expect and deserve better: it is beholden upon the judiciary to provide it.