The 3G version of iPhone was introduced this year in July. Despite the high price and software issues, popularity of iPhone has been growing everywhere including Pakistan. To date about 75 countries have been announced for this international launch but Pakistan is still not on the official list.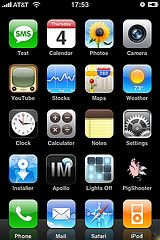 But given the talent Pakistanis have in reverse engineering and adapting gadgets to their need, who needs an official provider? I believe that iPhone has all that it takes to be one of the most popular phones in Pakistan: it is stylish, feature-rich and a status symbol. In a very short time iPhone has become the phone of choice for the tech celebrities of Pakistan. It is also quite popular with Pakistanis abroad as well. Actually iPhone is one of the most requested gift item from Pakistan!

I have been testing the 3G iPhone for a few months now and I love it, despite a few issues. I couldn't help comparing it with Blackberry pearl and other regular phones. But a simple comparison is not possible because iPhone packs so much more than the so-called smart phones. Now it does not mean that it is beyond criticism – the 3G iPhone has had its share of software bugs and network issues, many of which have been fixed recently.
First and foremost – iPhone is an eye candy. Browsing the web on iPhone is a treat and has made mobile web enjoyable. The visual elements, its ability to render images and graphics is superior than any other device. I find myself browsing the web quite a lot with the iPhone. Fans of iPod will love it too as it packs the popular audio features and capabilities in one sleek gadget. If you are all about email, many consider Blackberry to be much better but the new push capabilities of iPhone are quite appealing. The touch interface is intuitive and easy. If you make quite a lot of calls then beware – the touch key pad may or may not be your thing. Personally, I prefer the physical keyboard, at least when using the phone while driving.
The GPS and google map works quite well. There are many interesting new applications available which utilize GPS, such as iPray with Qibla Finder. This brings another interesting point: the very profitable Apple Store business model, which has resulted in huge number of interesting applications (some are free) available for download. Both the developers and Apple benefit from this approach.
Here are some suggestions. In case you have the new 3G iPhone, get the latest software fixes released by Apple (2.1 was released on Sep 12) which improves battery life and call quality and fixed many bugs.
If you have the original iPhone, no worries – it is good enough for most purposes. If you want to take the phone from US/EU to Pakistan, you are better off with the non-3G edition as 3G is non-existent in Pakistan. For US residents note that depending on your location, you may be on EDGE as 3G coverage is still limited and ATT network is mediocre. The email (push, support for exchange) of the new iPhone allows it to be easily adopted by professionals and companies.
Regardless of the bugs and complaints from die-hard Nokia and Blackberry fans, the iPhone is selling very well and it has some impressive and attractive features. Apple has shaken up the mobile monopolies of carriers and handset makers. It even forced Nokia to open up its platform and Google is under pressure to come up with a better product and platform. Competitors like Samsung, LG and HTC are working hard to come up with their versions of "touch" phones and this should mean more choices for consumers.
Images are from Apple web site and flickr.com.