PTV Karachi center was tense.
There were no value scripts that it would take stakes on. Frustration led to an urgent meeting among stake holders and Hasina Moin was asked or rather ordered to write something up as soon as possible to overcome the gloom and drought prevailing at PTV Karachi. Hasina had made it big with her eid plays and was kind of happily surprised on such immediate orders.
She took the challenge in stride and set her pen to task. Choosing the cast for the drama proved to be both easy and at some times difficult.
The easy part was the story had Shakeel as an obvious choice for the main character. The part that proved a bit difficult was to find a new girl to play the lead role of Bina – but more on that a bit later.
The name Uncle Urfi was chosen by Hasina herself. While Shakeel was chosen for the character, his looks still had something missing from the kind of character which Hasina had in mind for Uncle Urfi. Mohsin Ali – the wizard of PTV dramas then came up with the idea of Van Dyke beard a.k.a French cut and that is how Shakeel got the look he sported in Uncle Urfi.
Aunty Khurshid Mirza – the graceful lady of PTV was an unequivocal choice for Akka Bua with Rehana, Nahid Rafiq, Jamshed Ansari, Akbar Subhani and Khalid Nizami. Then there were heavy weights of PTV like Azra Sherwani as Ghazi Aapa and Qurban Jilani as Shaheed Bhai.
The serial went before the cameras of Faisal Nadeem and others immediately. The recording started with a bang and the first episode went on-air in February, 1972. It vibrated and connected with the different thoughts of Karachi viewers right away. In those days, the PTV system was such that any play recorded by any of the 3 stations of PTV viz., Lahore, Karachi and Rawalpindi was first telecast at the originating stations (say) from Karachi on Tuesday 8 p.m. It was then telecast the next Tuesday from (say) Lahore station and the Tuesday after that from Rawalpindi station. Therefore in those pre-VCR days if you missed a drama episode in Karachi then only way to catch it again was to catch take a train to Lahore and watch it there the next week and if you missed it there too then going to Rawalpindi next week used to be the only choice left. Telecasting dramas in 8 p.m. time slot was also a must thing for PTV in those days.
Uncle Urfi, the 26 episoder, took around 28 minutes each Tuesday for the viewers to remain literally glued to the TV sets. By the time the 6th episode aired Uncle Urfi had become the talk of the country…and this was all two episodes before that supreme moment when a new character of Bina was introduced. Bina was penned by Hasina, who had insisted that PTV should introduce a new face for Bina's character.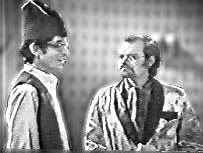 I distinctly remember that Mohsin Ali , Jamshed Ansari and I had traveled several times to Karachi University's famous Arts lobby in front of the Administration block in my Datsun-1600 to find Bina for Hasina Moin. We would politely walk around trying to judge and suggest to each other… a suitable face among the girls of Karachi University who could be offered the wonderful role of Bina. The honor of finding the right Bina, however goes to Hasina Moin herself. One day she, all excited and literally gloating entered Shirin's room and announced that she has located Bina and then entered a shy but highly composed and charming girl, Shahla Ahmad a student of the Institute of Business Administration (IBA) at Karachi University who for the history of PTV would be remembered as Bina of Uncle Urfi.
The role was so beautifully played by Shahla that I saw people literally in tears when her character took her own life at the end of the serial in the last episode. Add to that, the role of her greedy father played by Imtiaz Ahmed (brother of famous Indian film star Iftikhar) became the icons of Uncle Urfi.
The pick of the lighter side of the serial however, remains my dearest friend, late Jamshed Ansari as Hasnat bhai. Interestingly, the name Hasnat was given by Hasina to tease my buddy Hasnat Ahmad brother of Shamim Hilali and a PTV Karachi producer then who left us for heavenly abode some 4 years ago. Hasnat Ahmed was a darling of all and great company. He is also remembered fondly from Gup Shup of PTV-Lahore and Fifty-Fifty of PTV-Karachi. He was a great talent.
Uncle Urfi bears immense importance to me on personal grounds. It made me become one and perhaps the only artiste at PTV who has played two different characters in one serial with a gap of 10 episodes. I played an SHO Police in the 1st and 2nd episodes. Later in 12th, 13th and 14th episodes I played as a suitor to Shaheed Bhai and Ghazi Aapa's daughter Azra (Rehana) and a flirt to Afsheen (Nahid Rafiq) also having tete-e-tete with Khalid Nizami. I remained a close team member of Uncle Urfi from 1st till the last episode.
For me it became almost a family affair. In fact when the recording of the last episode ended there was a visible gloom on everyone's face. It looked like as if some tragedy has happened or will happen and it was indeed a tearful farewell we had in June of 1972.
Shakeel is still around as robust as ever. I have no idea where Rehana is? I know Khalid Nizami is in USA, Shahla in Canada, Nahid Rafiq is probably in Karachi and I am still in touch with Akbar Subhani and my car Datsun-1600 which Shakeel drove in the first episode after landing at Karachi Airport from that French Airliner "UTA" DC-10 jet – is somewhere and re-done with a diesel engine. I am sure!
And those children who created a stir in that restaurant scene where Uncle Irfan (Urfi) lands himself in trouble having got his pocket picked and arriving at my thana….those children must be busy in their jobs somewhere…that they must know that they are fondly remembered.
A lot of hard work went behind producing the PTV plays those days. For example, three mandatory reading rehearsals were held at PTV centers for three consecutive days before the recording day. On the day of recording, dry rehearsal was followed by moves.
The rehearsals and recordings used to take place at the smallest of the smallest studio of Karachi center – the Studio "A". But somehow with all the positive energy it felt as big as the Bahria Auditorium of today. The cast of the drama used to gather around at 9 a.m. and then they would spend the whole day in recording.
Around 6:30 p.m. the huge and heavy VTR tape was taken to the editing. After necessary editing was done the VTR was handed over to the MCR (Master Control Room) to run it on-air from 8 p.m. sharp.
There were advertisements in those days too but inspite of being in black and white they were more colorful than the advertisement of today.
Of those from Uncle Urfi cast and crew who have left us for heavenly abode are Jamshed Ansari, Azra Sherwani, Qurban Jilani, Imtiaz Ahmed, Aunty Khurshid Mirza, Cameramen Faisal Nadeem and both the Producers; Mohsin Ali and Shirin Athar Vaqar Azim.
Uncle Urfi was the only serial Shahla Ahmad acted in. There was one long play from PTV Karachi right after Uncle Urfi titled Gurya which was done by Shahla. It too was written by Hasina Moin and Produced by Shirin with Azra Sherwani, Manzoor Qureshi, myself and the child star Zeba daughter of Mehr Rizvi. That play Gurya entered a TV Drama Contest in Japan and won an award which Shirin went to Tokyo to receive. After that Shahla Ahmad also did a long play from PTV-Rawalpindi with Salim Nasir and thereafter got married and settled in Canada.
Those who have seen Uncle Urfi will agree with me that such powerful family (and Black and White) dramas of PTV can never be produced again – either by any private Production House or the PTV itself. Such serials live forever.