Adil Najam

It seems like everyone has an opinion on what Gen. Musharraf should do about the 2007 elections and the question of 'removing' his uniform. (See related ATP posts here, here, and here).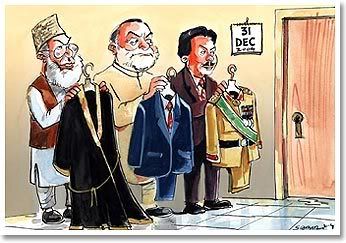 So, why not hear what ATP readers say on this question. That is what this, the second, ATP Poll will try to do.
But first, some context. I was in Washington DC yesterday speaking at a panel titled 'Inside Musharraf's Pakistan.' The panel was moderated by Akbar S. Ahmed (American University and the Brookings Institute) and, apart from myself, included Shahid Javed Burki (former World Bank and Pakistan's Finance Minister), and Frederic Grare (Carnegie Endowment for International Peace). The event was co-organized by the World Affairs Council (Washington DC), Rising Leaders, and the International Trade Center.
The discussion was very wide-ranging and given the (very) divergent views of the three speakers it was a lively session, made all the more interesting by some tough and probing questions from the floor. After the event an American research asked me what the mood of public opinion was on whether Gen. Musharraf should keep two offices (Army Chief and President) or not. The only honest answer I could give was that beyond saying that opinion was divided, I really did not know. And nor does anyone else; including General Musharraf himself (irrespective of whatever his advisors may tell him).
That gave me the idea that we should ask ATP readers what they think.
The Question: In your opinion, what should Gen. Musharraf do prior to the 2007 elections on the twin-office (President and/or Army Chief) issue?

[Please remember, the question is about what you think he should do, NOT about what you think he will do].

Continue holding both offices, by asking current Assembly to confirm him in both offices before the 2007 elections.
Continue in only one of the two offices (President or Army Chief) and give up the other.
Let the new Assembly decide, post-2007 elections, whether he can or should continue in both offices.
Hold a national referendum on whether he can or should continue in both offices.
Retire at the end of 2006 and fully hand over both offices to his successors.
You can get to the polling area by clicking on the responses in the sidebar, or directly by clicking here.
If you do want to influence the results, please, by all means ask your friends to also vote. Voting is anonymous; as it should be. This will, of course, not be a very scientific poll, but it will at least give us a sense of what this community — the ATP cohort — thinks.
Do vote, but please vote only once (even if you are smart enough to beat the system somehow). You can view the results here. [Polling Closed; 11.15PM, 31 July 2006].
P.S. The cartoon above is, once again, from The Friday Times.