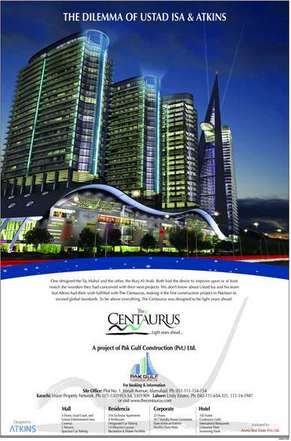 Adil Najam

I know. I know. Enough of this already. Let's move on now to something else. Things more important. That was exactly my thought too.
Until I saw this full page advert in today's Dawn. Then, I could not resist. Look at the tag-line at the top:
"The Dilemma of Ustad Isa and Atkins."
Ustad Isa, of course, was the architect who designed the Taj Mahal. And supposedly Atkins is the guy who did the Burj and is now trying to plagiarize his own design in Islamabad. The main text, in the middle of the advert, reads:
"One designed the Taj Mahal and the other, the Burj-Al-Arab. Both had the desire to improve upon or at least match the wonders they had conceived with their next project. We Don't know about Ustad Isa and his team but Atkins had the wish fulfilled with The Centaurus, making it the first construction project in Pakistan to exceed global standards. To be above everything, The Centaurus was designed to be light years ahead."
Till now I have found this whole thing intriguing and mildly amusing. A commentary on our aspirations as a society. A discourse on urban aesthetics. A debate about our role-models, about who (and what) we want to become, and who we wish to resemble. In that sense this project and its dreamt up graphics are no different from the dreamt up graphics of the 1960s PIA advert that we had written about early on and which continues to be amongst the most-visited ATP posts (here).
But this bit about comparing Ustad Isa and Atkins and my head spinning. Give me a break. Please! Comparing this to the Taj Mahal is a joke, and not a good one either. And if it has to be done, let someone else make the comparison rather than toot your own hand. Reminds me of a great Anwar Masood (here) humorous sheyr:
Ravi ka hai bayan, kay mairay saabqa pull par
choonTi koee kehti thi yeh sael-e-rawan say

folaad ka pull daikho dehal jaata hai kaisay
hum tum jo guzartay hain ik saath yahan say

The River Ravi tells the story of how on its old (metal) bridge
once a tiny any was heard saying to the gushing waters beneath

look, how this might steel bridge shakes and trembles with fear
when you and I move in unison near it!
Talk about being pretentious and taking undeserved credit!
By way of disclosure, I should say that although I admire the Taj Mahal as a building (and enjoyed visiting it); as a concept I remain rather underwhelmed by it. In this regards I am in the Sahir Ludhianvi camp (another great poet whose poetic inspirations matured in Lahore (see ATP post here):
Ik Shahenshah nay daulat ka sahara lay kar
humm ghareebouN ki mohabbat ka uRaya hai mazaaq

An Emperor has used
the crutches of his wealth
to mock at the love of the dispossessed
I guess this is because I have never been a fan of the Mughals (no offence meant, Owais!). I don't particularly care for monarchy, and this set of monarchs had some rather nauseating habits; particularly the later ones. Of course, that does not keep me from admiring some of the works created by them – or rather in their name, by the sweat and blood of others (see ATP post on Anarkali here).
What ever one does or does not think of the Taj. The fact of the matter is that comparing this to the Taj Mahal, even by analogy, is insulting to the Taj. To paraphrase a famous American politician: "I have seen the Taj Mahal, and this is no Taj Mahal!"
Earlier ATP post on this hotel here and here. Earlier ATP post on advertising: good (here) and bad (here).