While travelling off the beaten track, not only you travel in soot free and serene environment but you explore new vistas too. Interesting things come in the way, which normally remain hidden from common commuters in the area. The journey on the byways embraces you with lovely colours, atmosphere, people and bits and pieces of history. And, there is no hassle anywhere in the way.
Set up in the foreground of legendary Salt Range on the bank of River Jhelum, Mishri Mor Buss Adda (stop) is a wonderful place with its unique character. The passenger busses and wagons stop here and commuters get down to stretch their legs, have some food, and do some shopping or to take another bus to a different destination.
The Adda has developed into a shopping centre for the passengers and folks from nearby villages. Roads from Mandi Bauhud Din, Kharin, Jhelum and Cheri meet at this junction. Two disused railway track also passes through Mishri Mor: one on which a man driven rail trolley used to play between Mandi Bahaud Din and other that was built to ferry material for the construction of Rasul Barrage.
A washed up trail leaves from here for Till Jungian also. Near the bus stop are Rasul Barrage Wildlife Sanctuary, a 'Siphon' where Lower Jhelum Canal passes under the Rasul Qadarabad Link Canal and shrine of Baba Noor Shah. People bring milk offerings to this shrine from far off places and the tradition is to leave the milk pot there on the shrine. The area around Wildlife Sanctuary remains alive with myriad migratory birds – chiefly coots, common teal and ducks.
Standing at Mishri Mor, let your gaze slip and you will find Salt Range hillocks smoking with mist defining the skyline. Across River Jhelum, landscape appears like a shore of another land altogether: green belt dotted with trees and interrupted by the dawn's red and blue brushstrokes.
I have known this place all my adult life and have cluster of memories attached to it. Legand has it that Mishri Khan of nearby village Kotehra opened up a small tea shop here in early 60, hence the name. The place developed when Kharian Road improved and long route buses started plying. This is my destination stop for going home and this is where I refashion my 'urban' attitudes before walking remaining one and a half kilometre to my home village.
Every time, day and night, the shops play music. At times you even cannot hear your own voice. Each of the shops on the Adda owns a music system. Every one competes with the rest in loudness. Business sense dictates that the music be noisy enough to invite the attention of potential buyers. I do not know what it is about this place but everyone here seems to enjoy the noise.
"Without it, there would be no Mishri Mor," says Nawaz, a barber and proud owner of 'the Loudest Tape Recorder'. Despite being locally assembled and crude looking, his apparatus can outlast the rest. He has also placed Public Address System with its speakers facing different directions outside the shop. His shop is adorned with the pictures of almost all-famous faces of the Bollywood, Lollywood and some from Hollywood.
Though the buses stop here, the music does not. The digital revolution is affecting the way people listen, buy and enjoy music everywhere, but not here. It may look a strange choice but Mishri Mor is one of the best places to study the latest music trends in our rural culture in the Central Punjab. It is no warehouse or studio of some recording company. Rather, it is an open market complex spread over 700 square yards with 60 odd shops from hotel to barbershop to music centre, and vehicle repairing facilities. A vendor Khushi sells Bhujiya Channa to passengers and earns anything "between rupees 100/- to rupees 150/- daily," he told happily.
You can hear a mile away: Surayya Multanikar or Hadiqa Kiyani, Atta Ullah Essa Khelvi or Shezad Roy, folk, classical and even English music and songs. You name it; you will hear it in a boom that you could call the Mishri Mor fusion.
A third of the makeshift shops stock audio cassettes for sale. If the Public Call Office (PCO: equipped with mobile telephone because PTC has yet not made up to that remote location) cannot give you the track from 'Oh Kehndi Ae Sayan Main Teri Aan, hay' the fruit vendor certainly will. "We are generally ahead of anyone in these parts as far as getting the latest albums are concerned," says young Mian Khan, a PCO proprietor. He has the stock of over 500 cassettes and says, "The sale of cassettes is far more than the income from telephone. Acquiring latest music albums is easy. I get them through drivers who ply on these routes and stop here every time."
Hundreds of buses plying on these routes halt at Mishri Mor and the passengers pile out for relaxation, food and drinks. Malik Niaz, owner of an eating joint famous for fresh fish kabab informed, "The drivers and conductors of the buses are served with food, tea and cigarettes free of cost. They not only stop but also prolong their halts that help us sell more." Even shops that do not sell cassettes play music according to the perceived preference of the commuters who stop there. "It is one way to make customers feel comfortable, and it is good for business," added Malik.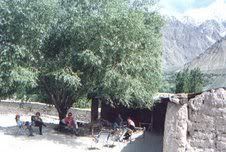 With so many shops selling new cassettes, demand still outstrips the supply. That is the reason why ever keen on further innovation, Mian Khan has started retailing cassettes and has switched over to selling them in his cubby-hole PCO. As the profit on a cassette is anything between rupees 10 to rupees 30, Mian Khan feels it is worth investing.
However, most of the shopkeepers keep 'Number 2 quality'. "We sell to every body: passengers, village folks, tractor and auto-rickshaw drivers who have installed the music systems in their vehicles. That is what keeps us going," says Mian Khan. That and the sense of plain good fun. Something that rubs off on anyone who stops here. "People get off here bleary-eyed and exhausted," told a passenger, "but the noise seems to wake everybody up."
After stretching their legs and eating at one of the many joints that line Mishri Mor Adda, passengers return to their buses. And they resume their travel; feet tapping to a chaotic but catching beat. May be one of the passenger offers his newly purchased cassette to the bus driver to play instead of one from driver's collection?
S A J Shirazi is a Lahore (Pakistan) based writer. He has authored two books (Izhar, Ret Pe Tehreer) and translated Din Mein Charagh by Abbas Khan into English. His blog is here.