Owais Mughal
All these stats are valid at the conclusion of first test match between Pakistan and West Indies on November 14, 2006.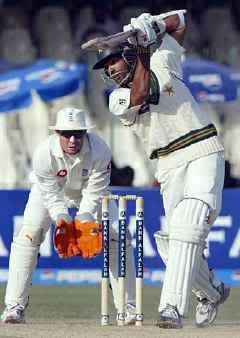 Yousuf is now at Pakistan Number 3:
Muhammad Yousuf is now the 3rd most prolific run scorer for Pakistan in Test cricket. Following list gives top 10 scorers for Pakistan in Test cricket in terms of career runs.
Javed Miandad 8832 runs at an average of 52.57
Inzamam-ul-Haq 8492 runs at 50.58
Mohammad Yousuf 5929 runs at 54.39
Salim Malik 5768 runs at 43.69
Zaheer Abbas 5062 runs at 44.79
Mudassar Nazar 4114 runs at 38.09
Saeed Anwar 4052 runs at 45.52
Majid Khan 3931 runs at 38.92
Hanif Mohammad 3915 runs at 43.98
Younis Khan 3895 runs at 48.68
Pakistan has the best record at home:
Pakistan has the best win percentage among all teams at home grounds. Following list gives the win percentage of all test playing countries at their home grounds.
Pakistan 72.36%
Australia 68.68%
West Indies 64.03%
England 62.63%
Sri Lanks 60.37%
India 56.36%
South Africa 54.54%
New Zealand 41.57%
Zimbabwe 21.42%
Bangladesh 5.26%
Pakistan v/s West Indies:
The all time test match rubber between Pakistan and West Indies now stands as follows:
Matches Played: 42
Won by Pakistan: 14
Won by West Indies: 14
Drawn: 14
Umar Gul completes 50 test wickets:
Umar Gul completed his 50 test wickets. He thus became 28th bowler from Pakistan to achieve this feat. Following is the list of highest wicket takers for Pakistan in Test Cricket.
Wasim Akram 414 wickets at an average of 23.62
Waqar Younis 373 wickets at 23.56
Imran Khan 362 wickets at 22.81
Abdul Qadir 236 wickets at 32.8
Saqlain Mushtaq 208 wickets at 29.83
Mushtaq Ahmed 185 wickets at 32.97
Sarfraz Nawaz 177 wickets at 32.75
Danish Kaneria 172 wickets at 33.14
Iqbal Qasim 171 wickets at 28.11
Shoaib Akhter 165 wickets at 25.69
Fazal Mahmood 139 wickets at 24.7
Intikhab Alam 125 wickets at 25.95
Abdul Razzak 95 wickets at 37.49
Tauseef Ahmed 93 wickets at 31.72
Mushtaq Mohammad 79 wickets at 29.22
Mohammad Sami 73 wickets at 48.36
Mahmood Hussain 68 wickets at 38.64
Sikander Bakht 67 wickets at 36.00
Mudassar Nazar 66 wickets at 38.36
Azeem Hafeez 63 wickets at 34.98
Pervez Sajjad 59 wickets at 23.89
Khan Mohammad 54 wickets at 23.92
Umar Gul 54 wickets at 29.7
Aaqib Javed 54 wickets at 34.7
Asif Iqbal 53 wickets at 28.33
Nasim-ul-Ghani 52 wickets at 37.67
Shabbir Ahmed 51 wickets at 23.03
Wasim Raja 51 wickets at 35.8