ATP has written in the past about the QINGQI and about rickshaw drivers; it is now time to do an indepth analysis of the Pakistani motor rickshaw.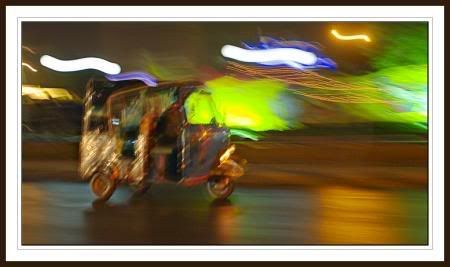 The motor- (sometimes auto-) rickshaw was invented by the Reverend Jonathan Scobie, an American Baptist minister living in Yokohama, Japan. The first model was built in 1869 in order to transport his handicapped wife. Today it remains as one of the most important modes of transportation in Pakistan where it was first seen on August 14, 1947. Before that it was not possible to see it in Pakistan.
The three- wheel- design of a rickshaw provides it a better road grip than a bicycle. It also provides gasoline savings when compared with a 4-wheeler taxi and green salad saving when compared with a 4-legged horse. When in need of repairs, the three-wheel structure also helps in lifting it from any side. When a side is lifted, it conveniently sits down on the other two while a mechanic goes looking for underbelly mechanical faults.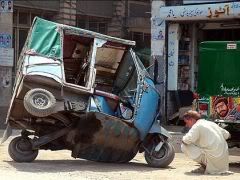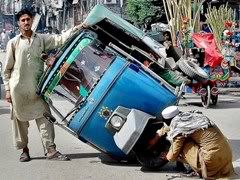 Pilot seat: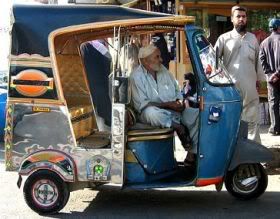 A rickshaw is a perfect example of a compact automobile design. The driver practically sits on a bench seat which is strategically placed on top of the engine. This causes inductive heat transfer between man and machine and keeps the engine cool. The same however, cannot be said for the driver's butt. The presence of a hot engine underneath, keeps a driver cozy during winters and boiling during summers. It is literally one heck of a hot seat to sit on. The advantage of a bench seat is manifold. A driver uses it to his own advantage to slide from one corner to the other depending on whichever side gives him a better view.
Driver's Ergonomics.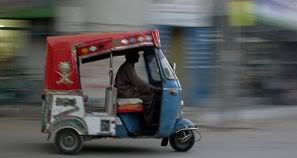 A rickshaw is immaculately designed to keep a driver relaxed during long hours. This has been accomplished by limiting the driving controls to both hands and a leg only. This keeps one leg of the driver free which he can dangle around when tired. Many of us must have seen the common practice where a tired driver lifts one of his legs and conveniently places it on top of the dash-board while still driving the rickshaw.
Rickshaw Starting Mechanism:
The height of automotive engineering is the design of rod (danda) start mechanism of the rickshaw engine. A 3 feet long lever is put on the floor of the rickshaw. To start the engine, a driver bends down to the side and lifts one end of this 'danda' in a quick swift motion. Look at the photo to the right. If everything else is right then the engine starts. Otherwise the whole exercise of 'danda' lifting is repeated as many times as needed.
Passengers Foot-hold.
While a rickshaw floor's mean height above sea level is less than 2 feet, a one-step foot hold is nonetheless provided on the passenger side of the cabin. I've never seen anyone using it but it is a detail important enough not to be missed out in this analysis. Most of the passengers bypass this one-step climbing assistance and put their first step directly inside the passenger cabin.
Head lamp.
Rickshaw comes with a single headlamp. The light emanating from this headlamp is usually just enough that other people can see that something is on-coming but a rickshaw driver doesn't see anything. Its luminescence makes one constantly reminded of Elton John's song 'candle in the wind'
Laws of Reflection.
A rickshaw driver usually adorns his rickshaw with a multiple array of reflective mirrors.
If a ray of light enters a rickshaw once, it gets trapped and it takes a while for it to get out after being internally reflected many times. These mirrors are placed by the driver to his own strategic advantage. If a passenger is to his liking then these mirrors help the driver to keep an eye on the passenger from many different angles.
Small is Big.
I have never seen a group of people denied a rickshaw ride just because of their numbers. It can fit them all including luggage.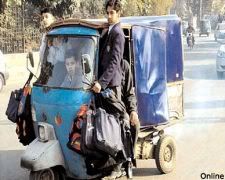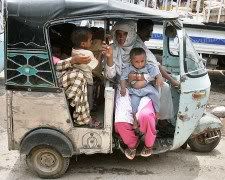 Many times one can see a family chilling out in the passenger cabin while their younger ones sharing driver's cabin with the driver. If a rickshaw picks up passengers from a railway station, luggage is easily placed in driver's cabin.
Flat Tire Replacement.
In case of a flat tire adversity, a rickshaw comes fully equipped with a mechanical jack. This jack is in the shape of a rectangular sheet-metal of roughly 12″x 24″ dimension. The simplicity of design here beats all modern hydraulic and geared jack designs. A rickshaw driver simply tilts his rickshaw on a side, inserts this sheet metal plate for support and changes the tire. The whole process of tilting a rickshaw and inserting the jack takes less than 10 seconds.
Where is Rickshaw's Center of Gravity?
The correct answer is, where ever the rickshaw driver wants it to be. The greatness of Rickshaw design lies in defying the geometrical axioms.
The Amphibian Rickshaws
I guess, I'll let the following photos speak for themselves.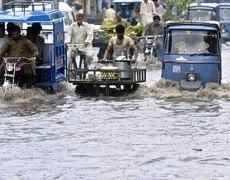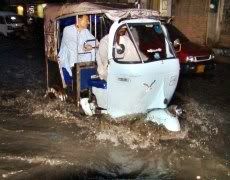 Our Food Supply Depends on Rickshaw Transportation
Following photos say it all. In the photo to the right, a person even has his bare foot dug in Chicken meat.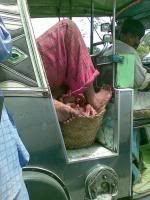 Rickshaw As a Place to Rest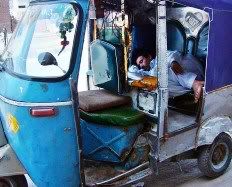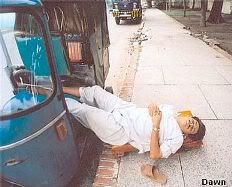 The Rickshaw Driver Culture.
Over the years certain etiquettes have evolved among rickshaw drivers. A passenger cannot just walk into an empty rickshaw and sit. He/She has to take driver's permission first. The magic question to ask is "Is rickshaw empty?" (rickshaw khali hai?). This question must be asked even if a rickshaw is visibly empty because depending on his mood a driver at anytime may declare a visibly empty rickshaw as occupied. Then there is no question of arguing. Rickshaw drivers have also mastered the sign language. If a rickshaw is empty then instead of saying 'yes' a driver usually moves his neck towards the passenger cabin in a long swooshing motion. This means rickshaw is empty. Please get in.
The Rickshaw Terminals
Every major city of Pakistan has Rickshaw terminals where these three-wheelers are rested or repaired. Take a look at following four photos.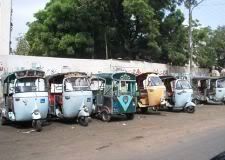 Rickshaw Towing – No Prroblem
When a rickshaw is disabled, towing it to mechanic is no problem. Donkeys, humans and other rickshaws have been traditionally used to tow a sick rickshaw to a mechanic.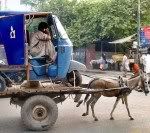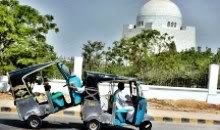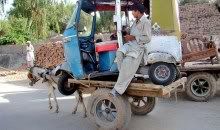 Mirror of Society.
Rickshaws are also a mirror of our society. Rickshaw drivers use back of the rickshaw as their scrap book. It displays their favorite poetry, puzzling questions, messages to other drivers, etc. I don't remember seeing any rickshaw ever without anything written on its back side. Some of these comments are a running commentary on our society's social and economic fabric. Take a look at 5 sample rickshaw messages:
mein baRa ho kar Corolla banooN ga

malik ki gaaRi, driver ka paseena
chalti hai road par bun ka haseena

kabhi aao na Karachi, khashbo laga ke


Daalar ki talaash


uff baji, rickshaw gayee
Photo Credits: Some photos for this article are courtesy of Mr. Muhammad Ali Musa who is a Quetta based Professional Photographer.
1. Rickshaw for transporting Fresh Chicken meat,
2. Rickshaw as a moving billboard,
3. Rickshaw transporting another Rickshaw,
4. Rickshaw Transporting a bakra (goat), and
5. Rickshaw for transporting People
6. A Virtual Rickshaw Ride
7. CNG Rickshaws in Pakistan