Owais Mughal 
Click on the Urdu text below to see larger image size. Approximate English translation is given under the Urdu text.
(1) Shujat Lovers Wing established

According to the Nawa-i-Waqt, supporters of the King Maker politician, Chaudhry Shujat Hussain have created an organization called the Shujat Lovers Wing in Spain. The chief organizer of Shujat Lovers Wing is touring France these days. Talking to Nawa-i-Waqt correspondent, he said the main aim of forming Shujat Lovers Wing is to unite the community and tie them into a single string of LOVE.
(2) Ishq khana kharaab
 
According to the Nawa-i-Waqt, the song titled as: 'ishq khana khrab' (damned love) of the movie: 'taRap' (yearnings) has become talk of the town. The young generation seems to be reciting the wordings of this song everywhere these days.
(3) Sports and Cattle Show Report from Iqbal Town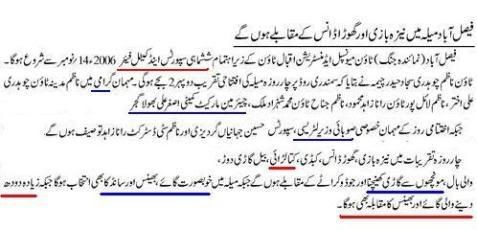 The above news is from the daily Jang. Town and Municipal Administration of Iqbal Town, Faisalabad is arranging a bi-annual Sports and Cattle show.  Provi ncial Minister for Literacy and Sports will be the guest of honor. Among other VIPs invited for the show include Chairman Market Committee Mr. Asghar bhola Gujjar.
Some of the events that will take place in the show include; Pulling a car with one's moustaches and dog fight. I wonder where are the officials of Department for Stopping of Cruelty against Animals (mehakma bara-i-insadaad-e-bay-rehmi-e-haiwanaat).
During the show there will be a beauty contest to choose the most beautiful cow and the most handsome bull.
There will also be a contest held between the most milk producing cows and buffaloes.