Why am I writing a story which happened in Taiwan on Pakistaniat.com? The answer is because it includes a Pakistani's quest for a Pakistani style daal-roti in Taiwan and succeeding. A few may actually find this food search inspirational. And since we are All Things Pakistan so this story is atleast A Few Things Pakistan, and thus qualifies.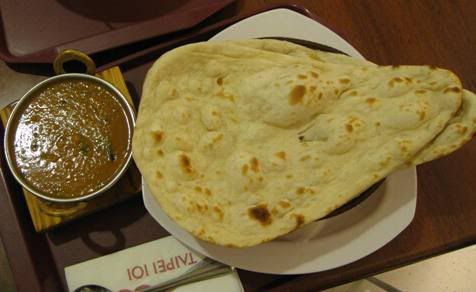 On these very pages, we have always tried to report on Pakistani food places from all around the world e.g. here, here, here, here, here, and here, so there you go! There you have it i.e. enough justification to be on these pages.
This story happened two weeks ago when travel took my family to Taiwan. One day we went to visit the world's tallest completed building in Taipei called the Taipei 101. It was lunch time and the basement of Taipei 101 has a World Food bazaar. Japanese, Korean, American, Turkish, Chinese, etc. You name it and they've got it.
It had been days since I had eaten a naan (round flat bread).
hum to hain pardes mein
des mein pakka ho ga naan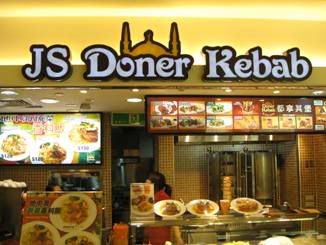 Photo to the right shows Turkish Doner kababs were also available.
I looked around and very soon I found it. meri aankhoN ka noor, meri dil ki thandak (The light of my eyes and the coolness of my heart), the round naan!! and it was being sold just round the corner. It was being displayed outside a small desi restaurant as if it was their election symbol. – naan ko vote do!..
"Alright!", I said and rushed to the place.
My passion however ran down as quickly as air rushes out of a balloon when I realized I had to place the food order in Chinese. The Taiwanese servers of desi food place could only say 'hello' in English and I could only say 'ni-haao' in Chinese. So they said Hello! and I said ni-haao! and 'phir charaaghoN mein roshni na rahi' (then there was silence).
All those stories which I had read in my childhood books rushed to my mind where a Pakistani guy orders chicken in China by crowing like a rooster: kukRooN kooN but the waiter brings him a miaaooN miaaooN(cat).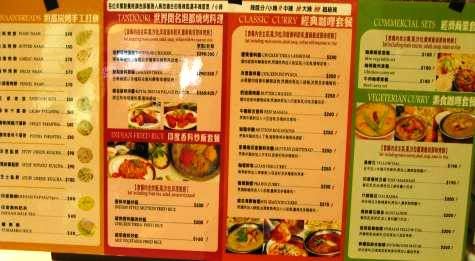 Anyways, I picked up a printed menu and luckily items were listed in both Chinese and English (shown in the photo above). The menu was not very encompassing. After going through it, a fifty-fifty sher came to my mind.
ni bhindi hai, na tinda hai
jaan buhat sharminda hai
Well the safe choice was to order 'daal' (lentils) and roti. After putting extra pressure on my mind I was able to put together this sentence in a mixture of Urdu, Chinese and English
"ee-ga daal ha er naan for chi-faan" (one daal and two naan for eating).
I think I added the extra words 'Chi-faan' (meal/ to eat) in Chinese just to impress the Taiwanese servers but it slightly confused them. They didn't understand why I am emphasizing that this food is for eating. What other purpose can there be?
After that I talked to the servers with my pleading eyes and mouth-wide-shut and they understood me. A reassuring smile from them meant that soon I'll get my daal and roti.
Behind the serving desk was a 2 feet x 2 feet window which opened in the kitchen. Through this window I was able to spot the 'desi' cooks in the kitchen.
Look at the photo below. It shows Taiwanese servers infront and desi staff in kitchen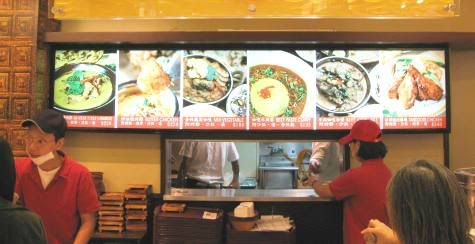 After hearing couple of Urdu words from me one of the desi cooks became curious and came to the window to look at me.
As soon as he saw me, he froze as if he had seen a bhoot (ghost) and then suddenly he disappeared from the window. Few seconds later he appeared again with another desi cook in the window. This time both guys had their necks stuck out of the window and they were looking at me smilingly.
"kia aap desi haiN?" One of them asked.
"mein kabhi desi tha, ab pardesi hooN" , I replied
I don't know if they understood the sentence or not but just listening to apni bhasha from me made them very excited.
"Oh ji welcome ji welcome ji", one of them said and we exchanged further pleasentries.
"aap ki roti, aap ki daal, abhi aai", they said and disappeared.
Few minutes later I was treated with one of the best 'daal' I've ever had and 2 hot rotis. The title photo of this post shows our daal-roti. Very soon I had my 'paanchoN ghee meiN aur sar kaRaahi meiN'.
It was very tasty food. I will certainly recommend this place to visitors going to Taipei.
Drinking desi Tea in Taipei 101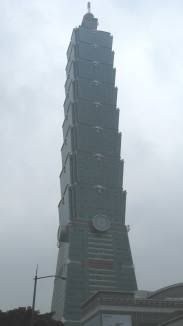 Earlier we had taken the world's fastest elevator (speed 60.6 kmph) to ascend to the observation deck of Taipei 101 located at floors 87 to 89. The building is 509.2 m (1670.6 ft) high. There is a restaurant there which among other items also serves desi chai (tea). That tea is called naai cha (milk tea). If you want to add milk to your own liking then you may want to order hong cha (red tea) which is actually black tea. Since black tea after brewing appears as a dark shade of red that is why in Chinese it is called hong cha. Well those who know me well may recall that
chai se gharz-e-nishaat hai kis roo siaah ko
ek gona-e-bekhudi mujhay har dam chahiye
i.e. I love to taste tea every where I get a chance to do so. I ordered Darjeeling brand 'naai cha' whcih was not grown in Darjeeling but in Taiwan. The tea leaves were at some point in time imported from Darjeeling but Taiwan now cultivates this brand in their own hills. The tea was wah-wa (wonderful).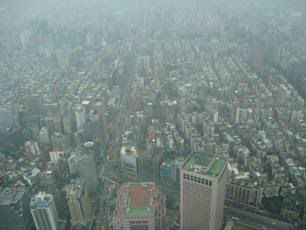 I sipped on my tea slowly while looking at the Taipei scenery from half a kilometer above ground. See photo to the left. After my chuhaas (thirst of tea – an Urdu term invented by Shafiq-ur-Rehman) was extinguished, we made our way down to basement and ate that famous daal-roti which I have already written about.
I have three things to recommend for visitors to Taipei 101. Drink wonderful desi tea at the top of the building, eat wonderful desi food at the bottom of the building and enjoy the great Taiwanese hospitality that you will experiene at every step of your way.