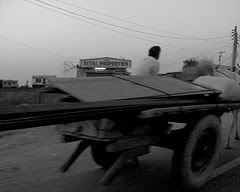 Setting eyes on Maqbool and his mule cart for the first time, one could be forgiven for thinking that he belongs to a working class endeavoring for survival. His shabby dress and toes peeping out of slippers too large for him, do not project an image of a contented and happy man who is fond of good animals and racing.
I first met Maqbool, commonly known as Bola Rehre Wala, at the Multan Railway Station where he works from 6 am to 9 pm every day, no holidays. He takes all the newspapers and magazines arriving at Multan Railway Station from all over Pakistan to various newspaper agencies in the city. He also takes with him any other load he may find on the Railway Station if he is free and his mule is 'willing'. He earns six to eight hundred rupees daily out of which two hundred rupees go to the diet and care of his mule.

Over a period of time, I found out that he has four children, two boys and two girls, none going to school. He and his wife do not wish to send their children to school because the boys are to join him in work as soon as they grow up and the girls are to be married off. His wife takes care of every thing at home. His elder son Nasir Iqbal has already started giving him a hand off and on. In return Nasir gets two hundred and fifty rupees per week as pocket money from his mother, which he spends on rented VCR and five films every week. The family has a colored TV in their in two room house with a separate place for the mule and the cart. Bola is not getting the cable connection because he fears, "girls will see cable all the time."
At the end of the day, Maqbool gives all earnings to his wife. She carefully spends the money on the mule, the family and invests the balance amount in different saving committees in her mohallah. The moment she receives any committee she sends her husband to deposit the money in his bank account. Maqbool says, "She likes the idea of being a wife of a lakhpati." Maqbool had some time ago put some money in a fixed deposit, which is going to be five times in near future. He loves his wife deeply and proudly says that he could not have saved anything without her financial wisdom. They are both illiterate but this does not bother them except that she has to take help from different people for maintaining the record of saving committees and book keeping.
In his mid forties, Maqbool is fond of cart races and looks forward to participating in the annual mule cart race from Multan to Pakpattan on the eve of Baba Farid Ganj's Urs. He prepares for this long race all round the year but two months before the race the expenditure on the diet of his mule shoots up to four hundred rupees a day. One of his few ambitions in life other than winning the annual race is to slaughter the best cow on Eid Ul Azha. Apple, honey or milk for horses might be common in Pakistan but I had never heard of anybody feeding sweets to his cow. Maqbool does.
"I want to buy a dala for work and keep my mule and cart only for the races," Maqbool informed me secretly, "but my wife says we do not have enough funds yet. My son Nasir will drive the truck and I will collect business for him. Nasir does not like working on the Cart. We have also decided to get him married once he starts working and after we buy a truck."
Apart form his contentment and passion for hard work, Maqbool has almost every quality that one can expect of a happy man living in today's complex world, some of which I discovered during the chance I had to know him better. He has no hostility, fear or alienation. He is free form pretension and phoniness. He has complete faith in God Almighty. Even his work ethics are different than any one in his class. He will often load his cart with luggage at half the fare of what any other cart man will charge. He is famous for being open to persuasion among his colleagues at the railways station. They often refer the passengers "to go find Mooba" once they cannot clinch a deal due to less payment, heavy load, long distance or odd timings.
Surprisingly Maqbool does not complain of the bone breaking price hike or what is happening in the society around him. Nothing bothers him as if he is living in a shell. Though he always comes to know about any thing important happening in the country not by reading the newspaper or listening to the TV news but from the weight of the newspapers he has to carry every day. His load increases whenever some government falls or new prime minister is to be elected in a hurry or if there is any other political and or social turmoil in the country.
The big question which comes to one's mind is that whether it is enough for him or for that matter any person to live all wrapped up in one's work, own self, family and be happy or should one aspire for commitment, enlightenment, sharing, giving, reaching for success and affluence.
What do you say? What do you aspire for in life?