NOTE: Translation of all Urdu sentences is given at the end
I want to start this recipe' with 7 time-tested words of wisdom. These words are tested by myself over a time period of two days, hence proved:
Never Judge a Custard by its Cover
Ok, so after you've sinked-in this message, I want to announce that the omelet looking thing below is actually an extra-ordinarily delicious Fruit Custard. Any agnostics? Please read my 7 words written above again. Others, please continue reading below.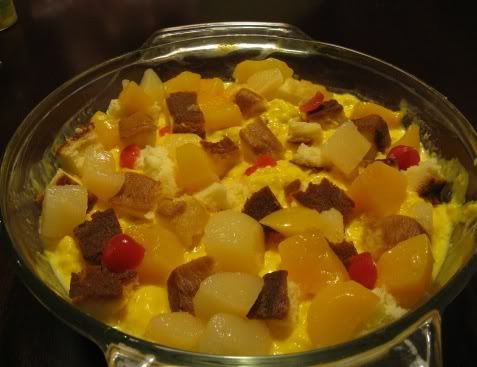 On our last grocery trip, I brought home a packet of Ahmed Custard Powder – Mango flavor. At home, I purposefully set the packet on kitchen counter. Why did I do that? Because if you put the packet in a closed cabinet then 'aaNkh ojhal pahaaR ojhal' happens.

Now tighten your seat belts or trouser belts because I am going to dwelve into this tasty recipe' with ya'all and lots of sugary jolts are expected.
Here we go!
Ingrediants: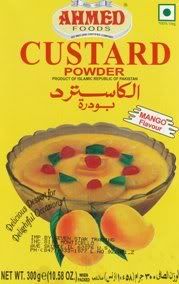 1. Custard Powder Packet – One for experienced cooks and two for beginners. I will buy my second packet tonight.
2. Milk:
Cow milk is preferred – Goat milk will get questionable looks – not from goat but from custard eaters.
Residents of Pakistan and India will now ask me: What about Buffalo milk? (Buffalo milk is most commonly used in the subcontinent.) Fine! Whether you use buffalo milk for custard making or not, it is totally up to you. Buffalo however will continue to give you curious looks like the one seen from an Okarvi Buffalo here
Camel milk? Don't even try. Haven't you heard this Shafiq-ur-Rahman sher?
gaya hai ooNT koi is taraf se
pata deti hai shokhi naqsh-e-paa ki
I've also heard that camel never forgets his/her enemy.
Milk Quantity?
For US residents: 32 oz (US System of Measurement)
For UK Residents: 2 pints (FPS System of Measurement)
For Rest of the World: 1 Liter (SI System of Measurement)
Before you accuse me of discrimination on the basis of geography, let me tell you that 32 oz = 2 pints = 1 liter, therefore everybody is equal and everybody's custard will taste the same.
3. Sugar:
Very strictly 2 Table Spoons only. If you dare to put the third spoon of sugar then you will be violating Pakistan's annual sugar consumption average.
Making Custard: TRIAL # ONE
For my trial number one I thought I will just follow the recipe' on the packet and kamyaabi meray qadam choomay gi but I was so naive. I looked around Ahmed Custard powder's packet from all 6 sides (top and bottom included) but couldn't find any recipe'. aap bhi dekhiye!
In a fit of rage I tore open the packet and there it was. A 3-language recipe' was printed on the inside of cardboard packet. Now I got the recipe' but custard packet was destroyed.
Anyways, I thought what does a small sacrifice of a custard packet mean in comparison to a larger goal of eating custard. So I moved on. And so should you. A poet says:
Packet hi meiN uljhaaya gaya hooN
Custard de kar behlaaya gaya hooN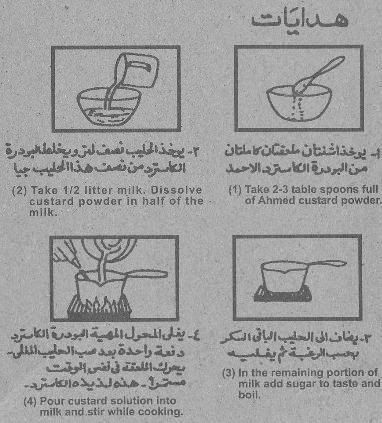 Once I started reading the recipe' I found out that only the recipe' heading is in Urdu and actual cooking steps are in Arabic and English only. Therefore all the Urdu medium people out there, please learn Arabic or English first before you even try making this custard – Mango Flavor. And if you think you are smart then try following the pictorial steps that come with the recipe'. Towards the right you can see the cutting of this recipe'.
Well years ago, my parents had invested in my English education, so all that learning did come to my help and I was able to follow this recipe' religiously. Here is a sample of my English command and control:
Good Gooder GanderiaaN
aadhi teriaaN te aadhi meriaaN
OR how about this English lesson which I got years ago:
ABC tu kithay gayee C?
Edward mar gaya C
meiN othay gayee C
OR this one with Italian touch in it:
I used to adore a sinora
Once I heard her snora
I adora no mora
OK, since I've proved my English proficiency so lets get back to our Custard Recipe'-Mango Flavor.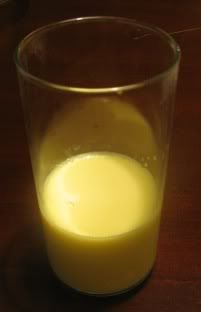 I measured the milk quantity precisely down to a drop's count and counted sugar down to a crystal's count. I boiled them together.
On the side I mixed 3 table spoons of custard powder in milk and poured it into boiling milk while stirring contniuously. I kept stirring for 10 minutes but custard never happened. All that emerged from the pot looked more like a Mango lassi than any custard. After 12 minutes of stirring I gave up and declared this experiment a failure.
Look at the glass to the left. While I am an eternal optimist and I consider this glass to be half full but it would've helped my confidence immensely if the glass had turned up half full of Mango Custard instead of Mango lassi. I am showing it here as nishan-e-ibrat (sign of learning) so that you learn from my mistakes and be successful in your first try. See how much we care for our readers' culinary delights at ATP.
At this time I was so dumb-founded at my failure that when someone asked me:
chup chup khaRay ho zuroor koi baat hai?
I replied:
pehli meri TRY hai ye pehli meri TRY hai
Analysis of Trial # 1 – What Went Wrong?
So what went wrong? Well. I'll tell you what went wrong. I was doomed for failure from the word get-go. The recipe' on the custard packet is WRONG. Mark my words as golden words are spoken once. If you want to eat custard and not drink mango lassi then you have to use atleast 4 times more custard powder than what recipe' calls for. Only downside is that if you use 4x the custard powder then you have to 4x the following table too.

Making Custard: TRIAL # 2:
Follow the same steps as in trial # 1 except when it comes to mixing custard powder in milk then naa daaeN dekho na baaeN (i.e don't look right or left) and unabashedly use 12 table spoons of custard powder .
Now when you will start stirring your mixture in the pot, it will form a thick custard shape within 5 minutes. Results are shown in the title photo of this post for everbody's tashaffi (satisfaction). As you can see in the title photo, I went an extra mile with the custard and sprinkled some fruit pieces and cake pieces on the top.
Making Custard: TRIAL # 3: na na bana na Custard.
After a successful trial, you can go more creative with the toppings and sprinkle cut banana pieces. I did that and the result is as shown in the photo below. Don't be overwhelmed by too many banana pieces shown here. Under that thick chaadar(sheet) of bananas lies my serene custard. After all kuch to hai jis ki parda dari hai.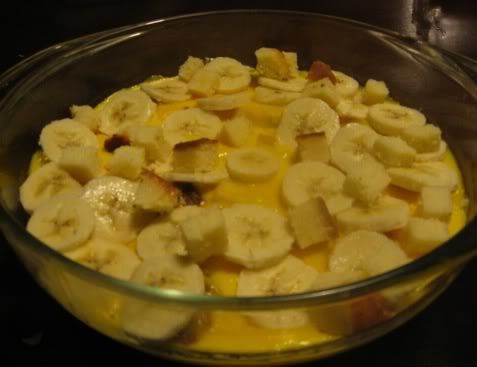 After I finished with sprinkling banana on my custard, I suddenly realized that I do own the bible of Pakistani cooking i.e. a book called khaana pakaana by Hafeez Inayatullah. Hafeez Inayatullah by the way is a lady's name therefore don't imagine her to look like Hafeez Kardar or say Azeem Hafeez. Anyways on Page 275 of her azeem book, mohtarma Hafeez gives the recipe' of Banana Custard but she basically says na na bana na to the way I made my banana custard. She says that always put banana in the custard just before serving time otherwise 'kelay pani choRh dete haiN'. Now what more should I say, aap khud hi paRh lijiye. – See last line of following recipe'
Custard khaiye ke log kehtay haiN
aaj Ghalib ghazal-sraa na hoa
-THE END-
Simple Translation of Urdu Sentences used in this post:
1. suno! aaj meethe mein kia hai: Listen! What's for desert today.
2. aankh ojhal pahaaR ojhal: If you close your eyes then even a mountain will disappear.
3. kaamyabi mere qadam choome gi: Success will kiss my feet.
4. kelay pani choRh dete haiN: Bananas release water.
5. gaya hai ooNT koi is taraf se. pata deti hai shokhi naqsh-e-paa ki: Looks a camel has just passed by. The liveliness of his foot steps is giving us a clue.
6. chup chup khaRay ho zuroor koi baat hai : You are standing so quietly – something must've happened
7. pehli meri try hai ye pehli meri try hai : This was my first try – This was my first try.
ATPs Other Food Posts
1. Curry in a Hurry
2. Made in China: Samosa and paraatha
3. Omelet Recipe' Pakistan Style
4. ATPs best Pakistani food outside Pakistan
5. Bihari kabab and the Runaway Chicken
6. daal-roti in Taiwan
7. 5-minti zabardast aaloo chole chaat