We recently had a post on Ghalib by Adnan Ahmad. I believe we can never have enough of Ghalib.
Adnan's post was mostly about Ghalib, the poet. This one is about Ghalib, the person.
When we think of Ghalib as a person, invariably the picture that comes to mind is that of an old man, rather emaciated, with drooping shoulders, wearing a white beard, a very somber expression and that tall, rather funny looking cap. This is because of that one portrait of Ghalib that we grew up seeing since schooldays. In real life, however, Ghalib was a witty person full of humor, he didn't wear a beard all his life — at least not when he was young, and I am not sure if he always wore that cap. One of his letters shows that he once ordered a Peshawari turban to replace that cap.
Adil Najam
Every time I read one of Shirazi's wonderful posts I am reminded of the fact that even though Pakistan is still a predominantly rural entity, the voices that speak about it are nearly entirely urban. Not surprisingly, we tend to speak about Pakistan in a mostly urban idiom, with a dominant urban bias, and using a strikingly urban imagery.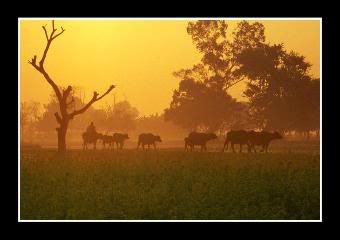 There is , of course, nothing wrong with the urban vernacular. It is, after all, the lived experience and felt reality of so many of us. However, there is something striking — and disturbing — about the near absence of the rural voice (Shirazi notwithstanding). This was not always so. An earlier generation of urban Pakistan was still very connected to the rural landscape; they were themselves rural migrants and understood the smells, the tastes, the sounds and the touch of rural Pakistan.