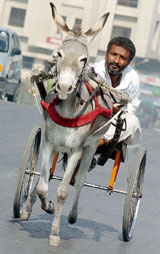 Karachiites know donkey cart races well.
I have myself witnessed them on many different streets in the city, from Sharah-e-Faisal to the main Univeristy Road. Amin Gulgee has even erected a monument to celebrate the city's interesting pastime.
Donkey carts, with their single riders guiding them masterfully on Karachi streets and making noise from pebble-filled cans, may be deemed dangerous by some residents of the city, but they are a unique Karachi thing and demonstrate the vibrancy present in the local communities (in this case it is the coastal Makrani community who are typically given the credit for inventing donkey cart racing in Karachi).
Believe me, if you haven't seen them before, you are missing a stirring sight. Even our President Musharraf has remarked in the past that "Donkey cart race reminded me of Ben Hur movie".
The following news item in The News caught my attention. Its great to see some attention being given to our local sports and customs. (Nice headline too: Only the city's best kept donkey carts would be allowed to participate in the race. Those with worn out tyres or unfit carts would not be allowed. The participants of the race will be accompanied by police mobiles and traffic police motorcycles to clear any kind of obstructions. These mobiles will also carry referees and judges who will decide the winner of the contest.
The winner will get Rs. 15,000, runner up Rs. 10,000 and third position will get a reward of Rs. 5000, said one organizer who added that there will be about 50 to 60 participants in the race and each will get Rs500 for their participation. Governor Sindh Dr. Ishrat-ul-Ebad and the Chief Secretary Sindh Fazal-ur-Rehman will be the guests of honour and will also address the participants after distributing the award money.
Talking to The News, Zohaib Hasan, Advisor to Governor Sindh, said, "The President gave a directive to the Sindh Government to promote activities that represent the vibrancy of Sindh.� He added: "The government wants to re-establish the tradition of donkey cart race as people are preferring foreign sports over their own and this race is one of the identities of the province and city and the public should be involved in it.�
According to the organizers, the government is trying to make it a routine event of the city and the idea was to launch three or four small cups and then invite the winners to big contests like the one due today. After the Chief Secretary Cup, the participants will be invited to the Governor Cup which is one of the main events of the Sindh Sea Festival to be held in November.
Dr. Bilal Zuberi is Vice President of Product Development at GEO2 Technologies in Boston (MA), USA. See more at Bilal's blog: BZNotes.