Adil Najam
I first saw this on Adnan Siddiqui's blog a couple of days ago. I bookmarked it and planned to do a post of good lookin' bakras closer to Eid-ul-Azha (or Bakra Eid). Over the last two days, however, I have received more than a dozen emails – including many from readers suggesting a post on this – that makes me wonder if I misread the significance of this phenomenon!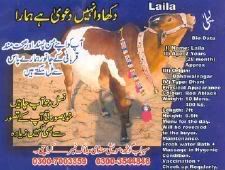 Quite simply, it is
a now-obvious and, therefore, brilliant entrepreneurial idea
. If you can sell books over the Internet, then why not sell meat, especially religious
qurbani
opportunities on Eid for those living outside Pakistan in places where the mechanics of the sacrificing animals as religious obligation is not easy to manage.The evidence to date is that selling books to Pakistanis is not easy (we aren't really the 'reading types'!) but food, especially meat, bring it on!The ads for the fine looking cows (blue background) are
NOT internet-based
, but I suspect that they soon will be.
Right now you will have to go to Sohrab Goth, Karachi to pick Billo up; unless, of course, you fancy Laila!
Giving the cows these model-like names is cute; except when you realize that their ultimate destination is someone's plate. I guess goats are being given such names too, and can imagine a Fifty-Fifty skit that goes something like this:
"What do we have for dinner tonight?"
"Laila's kalaija. Or you can have Billo's raan."
I particularly like the 'Bio Data', and one day I hope to have one as impressive as this myself. I am especially intrigued by the 'Menu of the Day,' which can only be revealed to buyers; alas they do not mention the price, but I suspect it is in the range of Rs. 35,000+.
The website floating around in Pakistani circles right now is about ebakra.com, which is a service provided by Islamabad's famous Qureshi Frozen Foods (which traditionally serves expatriate customers and others willing to pay premium price for high-quality, cleanliness and variety in meat products). The prices on the website right now are quite exhorbitant (I am told by bakra connoisseurs better versed in the dynamics of the bakra market than myself that the price being asked on this website is more than twice what you would otherwise pay for the best bakras).
As of now, there is no service for overseas Pakistanis or for Eid Qurbani, but they say they are planning something. Right now their service is for delivery in Islamabad and their current product line is limited only to dunbas (goats):
Here you can find animals of your choice, order it online and get the free delivery right at your doorstep. Rest assured that the health and safety standards are not compromised at any cost and we take every possible measure to make sure that our customers are satisfied with our services and products.
However, according to a Reuters report the Eid qurbani (sacrifice) market has now gone digital:
Religious organizations in Pakistan are using the Internet to help Muslims in Western countries buy and sacrifice animals for an annual festival.
… "It is not easy for [Muslims in Western countries] to buy animals and carry out the sacrifice according to our religious rites in those countries," said Sohail Ahmed, an official at the Al-Khidmat trust Islamic welfare organization. "They are turning to the Internet to complete their religious obligations," said Ahmed, whose organization offers the service.
In Pakistan, thousands of cows, goats, sheep and camels are sacrificed to celebrate Eid al-Adha, which this years falls in the first week of January.

… Buying a sacrificial animal over the Internet is also becoming popular in Pakistan, said Farukh Sheikh of the Sahara trust for life. "It is a matter of convenience. People nowadays don't have time to go to the markets and haggle over prices," Sheikh said. "We are offering a service at competitive rates. People trust us to distribute the meat according to religious obligations among the poor and needy," Sheikh said.
Most interesting, possibly disturbing, is this bit:
The Alamgir welfare trust also offers the option of viewing the sacrifice on its Web site. "We have a dedicated IP address and people can watch the sacrifice no matter which country they are in," said organization official Shakeel Dehalvi.
The report says that "animals are available on the websites for between $100 (6,000 rupees) for a goat and $450 (27,000 rupees) for a cow." Oddly, I could not find the websites of the organizations mentioned here; maybe I did not try hard enough.
I do wonder whether the 'sacrifice' we are making by parting with these large sums could be better spent on more worthy causes (Earthquake rehabilitation, maybe). After all, these enterprises (commercial and other) are buying these animals for less, charging us more, and using the rest as profit/surplus for something else. At what point, I wonder, does the spirit of 'sacrifice' become secondary to bragging rights of nabbing the best-looking bakra and watching its slaughter live over the Internet!
See last Eid's posts on ATP Eid Greetings, Eid cards, Eid Poetry, Eid cake, having multiple Eids, Eid in films, and the meaning of Eid.