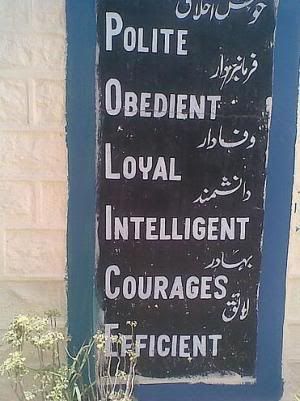 This signboard is painted on a wall at the Sukhan Police Station, Karachi.
This is what the folks at the Thanna believe are (or should be) the qualities of the Police Force in Pakistan.
The spelling mistakes (e.g., Courages) can be merely a case of Pinglish (we ourselves are not immune to these). But I do wonder why the word "Obedient" is there. Obedient to whom? And is that really a quality you want in your police force?
What do you think of this list. Are these the qualities we want in our police force?
Photographer Huma Imtiaz has generously allowed us to share this photo here.