Have you ever thought of a situation where a policeman nabs a bad guy red handedly but instead of putting handcuffs he softly utters this verbal warning in very polite Punjabi:

nayeen labhday laal gawaache
tu matti na pharol jogia
and the bad guy replies:
gunah ka apne motarif hoon, ye iltija hai pakbazo
karo mujhe sangsaar lekin, gunah ki dastaan to sun lo
Well, after reading the following news in Pakistan's largest Urdu daily you may also agree that above poetic episode does not seem like a far cry from reality. I thoroughly enjoyed reading it. For our English readership I'll provide the translation towards the end.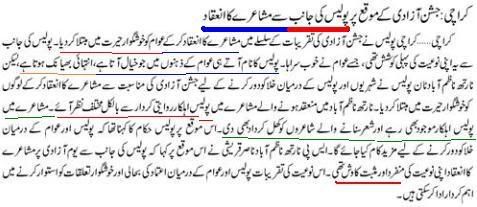 I also enjoyed reading the statement of Police Superintendent at this occasion who commended this literary activity of Pakistan police. Well humor aside, I sincerely think this is a positive development. We don't get to see human side of our policemen very often. Activities like this can certainly bring police and people closer.
Now going back to less serious topics, the news above reminds me of this sher by Saghar Khayyami. A poetry loving policeman resorts to poetry infront of a culprit and then this is what happens….
rafta rafta har police walay ko shaayer kar dia
mehfil-e-sher-o-sukhan mein bhej kar sarkar ne
ek qaidi subah ko phaaNsi laga kar mar gaya
raat bhar ghazleN sunayeeN usko thanedaar ne
I remember a chapter from my favorite author Shafiq-ur-Rehman, where he describes a very polite and gentle thanedar (policeman) whose takya kalam (words that are repeated as a habit by some people) used to be:
"…aur kabhi tashreef laaiye na thaane meiN" (…you should come to police station some times).
Even though policeman uttered the above 'takya kalam' with full sincerity, it nevertheless ended up scaring people. This thanedaar had also arranged for a signboard at his police station which read as: khush-aamdeed (Welcome).
In South Asia the image of a typical policeman is far away from being a gentle and courteous person. Therefore any sign of these softer qualities in policemen become national news or find a blog with category 'humor' in the tag. Before we leave the topic, I want to share this somewhat relevant sher. Once again it is an exceprt from a Shafiq-ur-Rehman book and it relates the baton-charge usually carried out by police to music.
uff ye lathi-Charge bhi kia saaz hai
baj raha hai aur be-awaaz hai
And as promised in the beginning of this post here is the approximate translation of Urdu news cutting.
As part of the Independence day celebrations, Karachi police arranged a 'mushaira' (poetry recitation gathering) which made people very happily surprised. This was the first of its kind gathering in Pakistan which was arranged by Police and it was well appreciated by the general public. The usual image that people have of policmen in Pakistan is very 'bhayanak' (horrifying). This police 'mushaira' was held in North Nazimabad where policemen shunned their traditional image and were seen in a totally different role. At times, they were also seen praising the poets whole heartedly. On this occasion police officers also vowed to work more to bridge the police-public gap.
Since this post is about police and poetry so lets end this post with some poetry which is about police.
The poet this time is Zulfiqar Cheema who says:
os ne ye keh kar ek A.S.P ka rishta rad kar dia
mein to samjhi thi laRka thaanedaar hai
ASP = Assistant Superintendent Police.
One more on Police related poetry. I found this one by web search and I don't know who is the original poet:
Challan ho chuka to kia mein ne ye sawal
kis cheez ki kami thi meray kaghzaat meiN
aata nazar nahin Tujhay, ye police ne kaha
ik das ka note kam hai tera kaghzaat meiN
And one police related 'qata' more from the 'anonymous' poet goes like this:
ae police beth ja wahaaN ja kar
saara fitna jahaaN se uThta hai
charas ki boo tujhe bata de gi
"ye dhuwaaN saa kahaN se uThta hai"
Since we've started collecting poetry about police here, so let add this one too. Khalid Masood Khan has said this 'sher' in the praise of 'puls'.
I just now remembered this Khalid Masood sher about 'puls':
jahaaN se dakoo shakoo aap ko khul-khula ke LooteN.
wahaaN se panj-sut gaz pe hota hai puls kaa naaka