Darwaish
In another dramatic development last night, dozens of armed Lal Masjid and Jamia Hafsa students stormed into a Chinese Beauty Parlor (massage centere) and kidnapped 9 people including 6 women and 3 men. All people are apparently of Chinese nationality. The incident occurred late Friday night.
According to Lal Masjid and Jamia Hafsa students, a brothel was being run under the name of massage centre and they have held Chinese men and women hostage for 'Islah'.
I was watching Geo News just a few minutes ago and Chinese Government has strongly condemned this incident and demanded an appropriate action. Daily Times reports:
Lal Masjid and Jamia Hafsa students raided a Chinese massage centre in Sector F-8/3 and took hostage five Chinese nationals, including three women and two men, on late Saturday night in Islamabad, Geo television reported. According to the channel, two vehicles full of armed seminary students raided the massage centre, abducted the staff and brought them to the mosque. Geo reported Jamia Hafsa administration as alleging that a brothel was being run under the garb the massage centre. The Lal Masjid clerics could not be contacted as they had switched off their mobile phones. Islamabad Capital Territory (ICT) officials reached the seminary and were trying to secure the release of the abducted Chinese through dialogue, it reported. Earlier, the students had abducted an alleged brothel owner and released her after a couple of days. They had also abducted and later released two police personnel.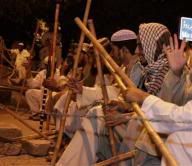 This is another very serious act after holding policemen hostage for several weeks. I am really worried about this new trend of kidnappings. This is becoming 'I don't like you so I am going to kidnap you, beat the hell out of you and fix you (Islah)'. I wonder what is next? If government tries to settle this matter by force, the results could be a bloody clash and loss of life. Surely, this time a serious action will be taken.
I agree with the argument that brothels exist everywhere in today's Pakistan. But is this the right way to do Islah? If our security and law enforcing agencies do their job properly, such incidents can never happen. Just blaming students of Lal Masjid and Jamia Hafsa is no good. The failure and inability of State of Pakistan to act when most needed, is equally responsible for this embarrassing situation and making us all look like a nation of extremists (both ends), illiterate ignorants and a bunch of fools.
What is Government of Pakistan is going to do? Why can't we have a permanent solution to this embarrassment? Tough question.